Xtane Exemestane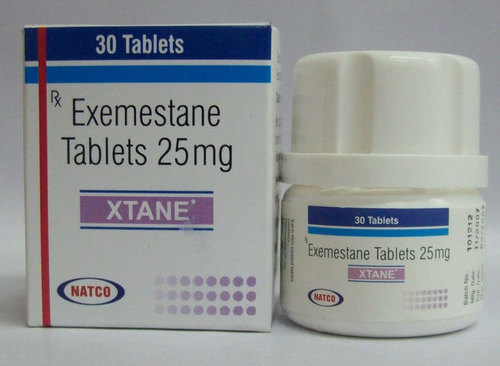 Xtane Exemestane
Product Description
Xtane (Exemestane)
Brand name:Xtane
Active Ingeridents (Generic Name) : Exemestane
Company Name: Natco
Package: 30 Tablets
Strength : 25mg
Indication:
This medication is used to treat certain types of breast cancer (such as hormone-receptor-positive breast cancer) in women after menopause. Xtane (Exemestane) is also used to help prevent the cancer from returning. Some breast cancers are made to grow faster by a natural hormone called estrogen. Xtane (Exemestane) decreases the amount of estrogen the body makes and helps to slow or reverse the growth of these breast cancers.
Mechanism of action:
Breast cancer cell growth may be estrogen-dependent. Xtane (Exemestane) is the principal enzyme that converts androgens to estrogens both in pre- and postmenopausal women. While the main source of estrogen (primarily estradiol) is the ovary in premenopausal women, the principal source of circulating estrogens in postmenopausal women is from conversion of adrenal and ovarian androgens to estrogens (estrone and estradiol) by the aromatase enzyme in peripheral tissues. Estrogen deprivation through aromatase inhibition is an effective and selective treatment for some postmenopausal patients with hormone-dependent breast cancer. Xtane (Exemestane) is an irreversible, steroidal aromatase inactivator, structurally related to the natural substrate androstenedione. It acts as a false substrate for the aromatase enzyme, and is processed to an intermediate that binds irreversibly to the active site of the enzyme causing its inactivation, an effect also known as "suicide inhibition". Xtane (Exemestane) significantly lowers circulating estrogen concentrations in postmenopausal women, but has no detectable effect on the adrenal biosynthesis of corticosteroids or aldosterone. This reduction in serum and tumor concentrations of estrogen delays tumor growth and disease progression. Xtane (Exemestane) has no effect on other enzymes involved in the steroidogenic pathway up to a concentration at least 600 times higher than that inhibiting the aromatase enzyme.
Dosage & Administration:
Take Xtane (Exemestane) exactly as prescribed by your doctor. Follow all directions on your prescription label. Do not take this medicine in larger or smaller amounts or for longer than recommended.
Xtane (Exemestane)

is usually taken once per day, after a meal. Try to take the medicine at the same time each day.

Use this medicine regularly to get the most benefit. Get your prescription refilled before you run out of medicine completely. You may need to keep taking take this medication for up to 5 years.
Side effects:
Hot flashes, hair loss, joint/bone/muscle pain, tiredness, unusual sweating, nausea, diarrhea, dizziness, and trouble sleeping may occur. If any of these effects persist or worsen, notify your doctor or pharmacist promptly.
Precaution:
Before taking Xtane (Exemestane), tell your doctor or pharmacist if you are allergic to it; or if you have any other allergies. This product may contain inactive ingredients, which can cause allergic reactions or other problems. Talk to your pharmacist for more details.

Store:

Store in the original container at room temperature away from moisture and heat.
Specification
| | |
| --- | --- |
| Minimum Order Quantity | 1 Bottle |
| Dose/Strength | 25mg |
| Packaging Type | 30 Tablets in a bottle |
| Brand | Xtane |
| Gender | Female |
| Package Type | Bottle |
| Usage/Application | breast cancer |
| Quantity Per Pack | 30 |
| No of tablets | 30 |
| Composition | breast Cancer |
| Drug Name | Exemestane |
| Company | natco |
| Manufacturer | natco |
Contact Us
Portion A, First Floor, Old No. 131, New No. 50, Pedariyar Koil Street, Seven Wells Chennai Tamil Nadu India +918045478353
Phone :+918045478353