X-vir 1mg Entecavir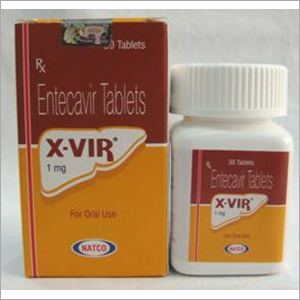 X-vir 1mg Entecavir
Product Description
X-vir (Entecavir)
Brand name: X-vir
Active Ingeridents(Generic Name): Entecavir
Company Name: Natco
Package: 30 Tablets
Strength : 1mg
Indication: Entecavir is used to treat long-term hepatitis B infection. Hepatitis B is an infection of the liver caused by the hepatitis B virus. Long-term infection can cause liver damage, rarely liver cancer, and liver failure. Entecavir helps to decrease the amount of hepatitisB virus in your body. It is unknown if this medication lowers your chance of gettingliver cancer or liver damage. Entecavir is an antiviral that belongs to a class of drugs known as hepatitis B virus nucleoside reverse transcriptase inhibitors.
Mechanism of action:
Entecavir is mainly used to treat chronic hepatitis B infection in adults and children 2 years and older with active viral replication and evidence of active disease.It is also used to prevent HBV reinfection after liver transplant and to treat HIV patients infected with HBV. Entecavir is weakly active against HIV, however it is not recommended for use in HIV-HBV co-infected patients without a fully suppressive anti-HIV regimen as it may select for resistance to lamivudine and emtricitabine in HIV.
Dosage and Administration:
Take entecavir on an empty stomach, at least 2 hours after a meal and at least 2 hours before the next meal.
Entecavir works best if it is taken at the same time each day.
Continue to take entecavir even if you feel well. Do not miss any doses.
If you miss a dose of entecavir, take it as soon as possible. If it is almost time for your next dose, skip the missed dose and go back to your regular dosing schedule. Do not take 2 doses at once.
Side effects : Dizziness; headache; nausea; tiredness.
Precaution:
An overdose entecavir Unlikely to threaten life, call an emergency room or a poison control center for advice if you suspect that a very large dose of entecavir has been ingested.
There are no restrictions on food, beverages, or activities while taking entecavir otherwise directed by your physician.
Store:
Store entecavir in the original carton at room temperature, between 68 and 77 degrees F (20 and 25 degrees C). Store away from heat, moisture, and light. Do not store in the bathroom. Keep entecavir out of the reach of children and away from pets.
Product Details:
| | |
| --- | --- |
| Drug Name | Xvir 1mg |
| Usage/Application | chronic hepatitis B virus (HBV) infection |
| Dosage Form | Tablet |
| Dose/Strength | 1mg |
| Active Ingredient | Entecavir |
| Brand | Xvir |
| Company Name | natco |
| Strength | 1mg |
| Dose/Strength (ex. 1 mg or 1 ml) | 1mg |
| Usage | Hospital, Personal, Clinical |
| Manufactured By | Natco |
| Marketed By | Natco |