Vinrelbine Injection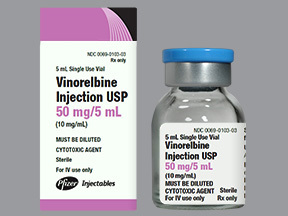 Vinrelbine Injection
Product Description
Vinrelbine Injection
Brand name: Vinrelbine Injection
Active Ingeridents (Generic Name) : Vinorelbine
Company Name: Pfizer
Package:Vial
Strength : 50mg/5ml
Indication:
It is used in the treatment of Non-small cell lung cancer, Some healthcare providers may also give this drug for breast cancer, ovarian cancer, or Hodgkin's disease.
Mechanism of action:
The antitumor activity of Vinorelbine is thought to be due primarily to inhibition of mitosis at metaphase through its interaction with tubulin. Vinorelbine binds to the microtubular proteins of the mitotic spindle, leading to crystallization of the microtubule and mitotic arrest or cell death. Like other vinca alkaloids, Vinorelbine may also interfere with: 1) amino acid, cyclic AMP, and glutathione metabolism, 2) calmodulin-dependent Ca2+-transport ATPase activity, 3) cellular respiration, and 4) nucleic acid and lipid biosynthesis.
Dosage & Administration:
Vinorelbine is given through a vein by intravenous injection (IV push) or infusion (IV). Vinorelbine is a vesicant. A vesicant is a chemical that causes extensive tissue damage and blistering if it escapes from the vein. The nurse or doctor who gives this drug must be carefully trained. If you notice pain, redness or swelling at the IV site while you are receiving Vinorelbine tartrate, alert your health care professional immediately.

The amount of Vinorelbine you will receive depends on many factors, including your height and weight, your general health or other health problems, and the type of cancer being treated. Your doctor will determine your dose and schedule.
Side effects:
Nausea, vomiting, fatigue, constipation, diarrhea, dizziness, muscle aches, joint pain, or irritation at the injection site may occur. If any of these effects persist or worsen, notify your doctor or pharmacist promptly.
Temporary hair loss may occur. Normal hair growth should return after treatment has ended.
Precaution:
Before using Vinorelbine, tell your doctor or pharmacist if you are allergic to it; or if you have any other allergies. This product may contain inactive ingredients, which can cause allergic reactions or other problems. Talk to your pharmacist for more details.
This medication should not be used if you have certain medical conditions. Before using this medicine, consult your doctor or pharmacist if you have: decreased bone marrow function/blood cell disorders (e.g., anemia, leukopenia, thrombocytopenia).
Store: Store at room temperature away from moisture and heat.
Trade Information
As Per Order Requirement Per Day

1-12 Days
Contact Us
Portion A, First Floor, Old No. 131, New No. 50, Pedariyar Koil Street, Seven Wells Chennai Tamil Nadu India +918045478353
Phone :+918045478353