Valten Tenofovir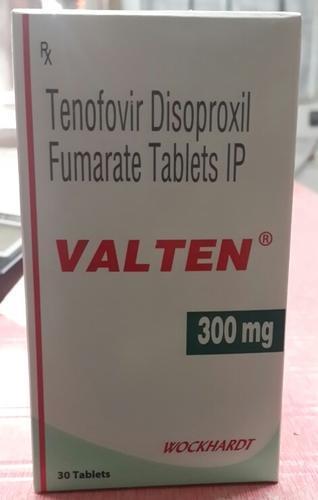 Valten Tenofovir
Product Description
Valten (Tenofovir )
Brand name: Valten
Active Ingeridents(Generic Name) : Tenofovir disoproxil Fumerate
Company Name: Wockhardt
Package:30 Tablets
Strength : 300mg
Indication:
Valten (Tenofovir )is used with other HIV medications to help control HIV infection. It helps to decrease the amount of HIV in your body so your immune system can work better. This lowers your chance of getting HIV complications (such as new infections, cancer) and improves your quality of life.
Mechanism of action:
Valten (Tenofovir )is a defective adenosine nucleotide that selectively inhibits the action of reverse transcriptase, while only weakly interfering with mammalian DNA polymerases , , and mitochondrial DNA polymerase . Valten (Tenofovir )prevents the formation of the 5 to 3 phosphodiester linkage essential for DNA chain elongation. A phosphodiester bond cannot be formed because the Valten (Tenofovir )molecule lacks an OH group on the 3 carbon of its deoxyribose sugar. Once incorporated into a growing DNA strand, Valten (Tenofovir )causes premature termination of DNA transcription. The drug is classified as a nucleotide analogue reverse transcriptase inhibitor (NtRTI). Reverse transcriptase is a crucial viral enzyme in retroviruses such as human immunodeficiency virus (HIV) and in hepatitis B virus infections.
Dosage and Administration:
Use Valten (Tenofovir )as directed by your doctor. Check the label on the medicine for exact dosing instructions.
An extra patient leaflet is available with Valten (Tenofovir ). Talk to your pharmacist if you have questions about this information.
Take Valten (Tenofovir )by mouth with or without food.
Continue to take Valten (Tenofovir )even if you feel well. Do not miss any doses.
Taking Valten (Tenofovir )at the same time each day will help you remember to take it.
Do not suddenly stop taking Valten (Tenofovir )without checking with your doctor. This may cause the virus to become less sensitive to this or other medicines. If you have hepatitis B, your condition could become worse if you suddenly stop taking Valten (Tenofovir ).
If you miss a dose of Valten (Tenofovir ), take it as soon as possible. If it is almost time for your next dose, skip the missed dose and go back to your regular dosing schedule. Do not take 2 doses at once.
Side effects:
All medicines may cause side effects, but many people have no, or minor, side effects. Check with your doctor if any of these most COMMON side effects persist or become bothersome:
Back pain; diarrhea; dizziness; gas; headache; indigestion; loss of appetite; nausea; runny or stuffy nose; sweating; tiredness; trouble sleeping; vomiting; weakness; weight loss.
Precaution:
Before taking Valten (Tenofovir ), tell your doctor or pharmacist if you are allergic to it; or if you have any other allergies. This product may contain inactive ingredients, which can cause allergic reactions or other problems. Talk to your pharmacist for more details.
Store: Store Valten (Tenofovir )at room temperature, between 68 and 77 degrees F (20 and 25 degrees C). Store away from heat, moisture, and light.
Contact Us
Portion A, First Floor, Old No. 131, New No. 50, Pedariyar Koil Street, Seven Wells Chennai Tamil Nadu India +918045478353
Phone :+918045478353