Trabec Trabectedin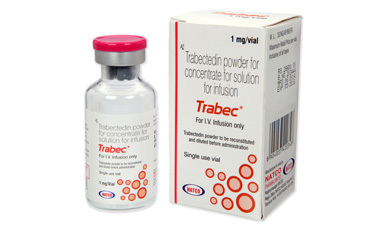 Trabec Trabectedin
Product Description
Trabec (Trabectedin)
Brand name: Trabec

Active Ingredient: Trabectedin

Company name: Natco

Package:Vial

Strength: 1mg
Indication:
Trabec (Trabectedin) is used to treat certain types of cancer. It is a chemotherapy drug that works by slowing the growth of cancer cells.
Mechanism of action:
Trabec (Trabectedin) interacts with the minor groove of DNA and alkylates guanine at the N2 position, which bends towards the major groove. In this manner, it is thought that the drug affects various transcription factors involved in cell proliferation, particularly via the transcription-coupled nucleotide excision repair system. Trabec (Trabectedin) blocks the cell cycle at the G2 phase, while cells at the G1 phase are most sensitive to the drug. It also inhibits overexpression of the multidrug resistance-1 gene (MDR-1) coding for the P-glycoprotein that is a major factor responsible for cells developing resistance to cancer drugs. The agent is also thought to interfere with the nucleotide excision repair pathways of cancer cells, suggesting that it could be effective in the treatment of many cancer types including melanoma and sarcoma, as well as lung, breast, ovarian, endometrial and prostate cancers; clinical evaluations are underway in these indications.
Dosage & Administration:
Read the Patient Information Leaflet if available from your pharmacist before you start using Trabec (Trabectedin) and before each treatment. If you have any questions, ask your doctor or pharmacist.
This medication is given by injection into a large vein (central line) by a health care professional. It is usually given every 3 weeks.
Your doctor will order a corticosteroid (such as dexamethasone) to lower the risk of liver problems or prevent side effects such as nausea/vomiting. These medications are usually given at least 30 minutes before your dose of Trabec (Trabectedin).
The dosage is based on your height, weight, medical condition, lab test results, and response to treatment.
Side Effects:
Headache, weakness, tiredness, constipation, diarrhea, body aches, skin darkening, or trouble sleeping may occur. If any of these effects persist or worsen, tell your doctor or pharmacist promptly.
Precaution:
Before receiving Trabec (Trabectedin), tell your doctor or pharmacist if you are allergic to it; or if you have any other allergies. This product may contain other inactive ingredients, which can cause allergic reactions or other problems. Talk to your pharmacist for more details.
Before using this medication, tell your doctor or pharmacist your medical history, especially of: low blood cell counts, liver disease (such as active hepatitis), kidney disease, recent/current infections.
Store:
Trabec (Trabectedin) is usually handled and stored by a health care provider. If you are using Trabec (Trabectedin) at home, store doxorubicin as directed by your pharmacist or health care provider. Keep Trabec (Trabectedin) out of the reach of children and away from pets.
Specification
| | |
| --- | --- |
| Minimum Order Quantity | 1 Vial |
| Drug Name | Trabec |
| Dose/Strength | 15mg |
| Usage/Application | soft tissue sarcoma |
| Dosage Form (If Applicable) | Injection |
| Packaging Type | 1 inj in 1 Vial |
| Product Type | Finished Product |
| Packaging Size | Vial |
| Manufactured By | Natco |
Contact Us
Portion A, First Floor, Old No. 131, New No. 50, Pedariyar Koil Street, Seven Wells Chennai Tamil Nadu India +918045478353
Phone :+918045478353