Torisel Temsirolimus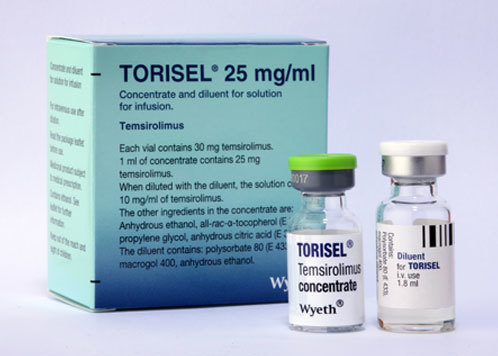 Torisel Temsirolimus
Product Description
Torisel (Temsirolimus)
Brand name: Torisel
Active Ingeridents (Generic Name) :Temirolimus
Company Name: Wyeth
Package: Vial
Strength : 25mg/ml
Indication:
Treating advanced kidney cancer. It may also be used for other conditions as determined by your doctor.
Torisel (Temsirolimus) is a kinase inhibitor. It works by preventing the growth of cancer cells.
Mechanism of action:
Torisel (Temsirolimus) is an inhibitor of mTOR (mammalian target of rapamycin). Torisel (Temsirolimus) binds to an intracellular protein (FKBP-12), an the protein-drug complex inhibits the activity of mTOR that controls cell division. Inhibition of mTOR activity resulted in a G1 growth arrest in treated tumor cells. When mTOR was inhibited, its ability to phosphorylate p70S6k and S6 ribosomal protein, which are downstream of mTOR in the PI3 kinase/AKT pathway was blocked. In in vitro studies using renal cell carcinoma cell lines, Torisel (Temsirolimus) inhibited the activity of mTOR and resulted in reduced levels of the hypoxia-inducible factors HIF-1 and HIF-2 alpha, and the vascular endothelial growth factor.
Dosage & Administration:
Use Torisel (Temsirolimus) as directed by your doctor. Check the label on the medicine for exact dosing instructions.
Torisel (Temsirolimus) is usually given as an injection at your doctor's office, hospital, or clinic.
Do not eat grapefruit or drink grapefruit juice while you use Torisel (Temsirolimus).
You will receive an antihistamine (eg, diphenhydramine) about 30 minutes before Torisel (Temsirolimus) to help decrease the risk of an allergic reaction. Tell your doctor before you receive Torisel (Temsirolimus) if you miss your dose of the antihistamine.
If you miss a dose of Torisel (Temsirolimus), contact your doctor right away.
Ask your health care provider any questions you may have about how to use Torisel (Temsirolimus).
Side effects:
All medicines may cause side effects, but many people have no, or minor, side effects. Check with your doctor if any of these most COMMON side effects persist or become bothersome:
Acne; back pain; constipation; diarrhea; dry skin; fingernail or toenail changes; headache; joint pain; loss of appetite; mouth pain or sores; nausea; nosebleed; runny nose; stomach pain or upset; taste changes; trouble sleeping; vomiting; weakness; weight loss.
Precaution:
Before starting Torisel (Temsirolimus) treatment, make sure you tell your doctor about any other medications you are taking (including prescription, over-the-counter, vitamins, herbal remedies, etc.). Do not take aspirin, products containing aspirin unless your doctor specifically permits this.

Avoid grapefruit and grapefruit juice (may increase the levels/adverse effects of Torisel (Temsirolimus)).

Do not receive any kind of immunization or vaccination without your doctors approval while taking Torisel (Temsirolimus). Avoid close contact with recently vacinnated (live vaccine) individuals.
Store:
Torisel (Temsirolimus) is usually handled and stored by a health care provider. If you are using Torisel (Temsirolimus) at home, store Torisel (Temsirolimus) as directed by your pharmacist or health care provider.Keep Torisel (Temsirolimus) out of the reach of children and away from pets.
Trade Information
As Per Order Requirement Per Day

1-12 Days
Contact Us
Portion A, First Floor, Old No. 131, New No. 50, Pedariyar Koil Street, Seven Wells Chennai Tamil Nadu India +918045478353
Phone :+918045478353