Tenofovir and Lamivudine Tablets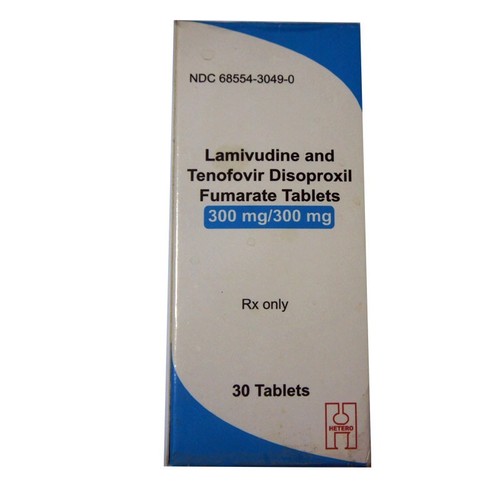 Tenofovir and Lamivudine Tablets
Product Description
Tenofovir and Lamivudine Tablets
Active Ingeridents(Generic Name) : Tenofovir and Lamivudine
Company Name: Hetero
Package : 30 tablets
Strength : Tenofovir 300mg + Lamivudine 300mg
Indication:
Treating HIV infection. It is used along with other medicines for HIV. Tenofovir and Lamivudine is a combination of 2 HIV protease inhibitors. It works by stopping the HIV virus from multiplying.
Mechanism of action:
Tenofovir:
Tenofovir inhibits the activity of HIV reverse transcriptase by competing with the natural substrate deoxyadenosine 5-triphosphate and, after incorporation into DNA, by DNA chain termination. Specifically, the drugs are analogues of the naturally occurring deoxynucleotides needed to synthesize the viral DNA and they compete with the natural deoxynucleotides for incorporation into the growing viral DNA chain. However, unlike the natural deoxynucleotides substrates, NRTIs and NTRTIs (nucleoside/tide reverse transcriptase inhibitors) lack a 3'-hydroxyl group on the deoxyribose moiety. As a result, following incorporation of an NRTI or an NtRTI, the next incoming deoxynucleotide cannot form the next 5'-3' phosphodiester bond needed to extend the DNA chain. Thus, when an NRTI or NtRTI is incorporated, viral DNA synthesis is halted, a process known as chain termination. All NRTIs and NtRTIs are classified as competitive substrate inhibitors.
Lamivudine:
Lamivudine is a synthetic nucleoside analogue and is phosphorylated intracellularly to its active 5'-triphosphate metabolite, lamivudine triphosphate (L-TP). This nucleoside analogue is incorporated into viral DNA by HIV reverse transcriptase and HBV polymerase, resulting in DNA chain termination.
Dosage and Administration:
An extra patient leaflet is available with Tenofovir and Lamivudine. Talk to your pharmacist if you have questions about this information.
Take Tenofovir and Lamivudine by mouth with or without food.
Continue to take Tenofovir and Lamivudine even if you feel well. Do not miss any doses.
Taking Tenofovir and Lamivudine at the same time each day will help you remember to take it.
If you miss a dose of Tenofovir and Lamivudine, take it as soon as possible. If it is almost time for your next dose, skip the missed dose and go back to your regular dosing schedule. Do not take 2 doses at once.
Side effects:
Below are the common side effects that may occur when using Tenofovir and Lamivudine Tablet. Please consult your doctor if you observe any of these side effects even in mild form.
Anaemia
Angioedema
Anorexia
Precaution:
Take the following precautions or be careful about the following while consuming Tenofovir and Lamivudine Tablet:
Avoid pregnancy
Discontinue use if rapid increase in aminotransferase levels, progressive hepatomegaly, or metabolic or lactic acidosis of unknown origin
Do not take tenofovir with other drugs that can potentially damage kidneys
Do physical examination of fat redistribution, monitor blood levels of lipids and sugar in elderly
Store: Tenofovir and Lamivudine room temperature away from moisture and heat or cold. Do not freeze.
Trade Information
As Per Order Requirement Per Day

1-12 Days
Contact Us
Portion A, First Floor, Old No. 131, New No. 50, Pedariyar Koil Street, Seven Wells Chennai Tamil Nadu India +918045478353
Phone :+918045478353