Tabi Bicalutamide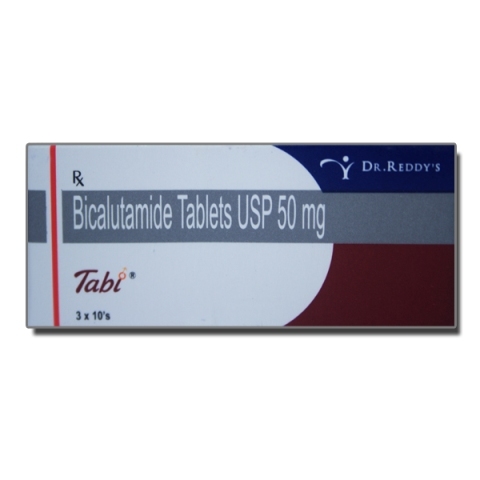 Tabi Bicalutamide
Product Description
Tabi (Bicalutamide)
Brand name: Tabi
Active Ingeridents(Generic Name) : Bicalutamide
Company Name: Dr.Reddys
Package:10 Tabs in strip
Strength : 50mg
Indication:
Tabi (Bicalutamide) is used to treat prostate cancer that has spread to other areas of the body. It is used in combination with hormone treatment. This medication works by blocking the action of male hormones in the prostate, slowing growth of the tumors.This medication should not be used in women or children.
Mechanism of action:
Tabi (Bicalutamide) is an oral medication that is used for treating cancer of the prostate. It belongs to a class of drugs called anti-androgens which includes flutamide (Eulexin) and nilutamide(Nilandron). Androgens are hormones that are produced and released by the adrenal glands. They are responsible for supporting (stimulating) tissues that primarily are thought of as male, for example, the male prostate gland. Anti-androgens prevent the action of androgens by blocking the receptors for androgens on the cells of tissues, for example, the cells of the prostate gland. In addition to normal prostate cells, androgens also have been shown to stimulate the growth of cancer cells within the prostate. Tabi (Bicalutamide) is thought to prevent the growth of prostate cancer by blocking the effects of androgens on thecancer cells. Tabi (Bicalutamide) was approved by the FDA in 1995.
Dosage and Administration:
Tabi (Bicalutamide) should be taken as one 50 mg tablet in the morning or evening at the same time each day. It may be taken with or without food. Once Tabi (Bicalutamide) therapy has begun, it should not be interrupted or stopped without consulting a physician.
Side effects:
When Tabi (Bicalutamide) and an LHRH analog are given together, the most common side effect is hot flashes (50% of patients) and facial flushing. Alcohol may worsen this reaction, and so it should be cautiously consumed.
Other common side effects of the combination are:
infections, water retention, anemia, diarrhea, constipation, and overall pain, pain in the back, hips, and stomach.
Precaution:
Before taking Tabi (Bicalutamide), tell your doctor or pharmacist if you are allergic to it; or if you have any other allergies. This product may contain inactive ingredients, which can cause allergic reactions or other problems.
Store:
Tabi (Bicalutamide) should be stored at room temperature, 15 C to 30 C (59 F to 86 F).
Trade Information
As Per Order Requirement Per Day

1-12 Days