Stivarga Regorafenib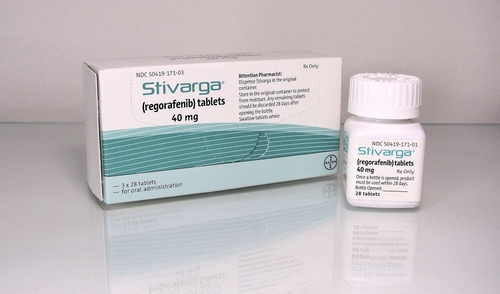 Stivarga Regorafenib
Product Description
Stivarga (Regorafenib)
Brand name: Stivarga
Active Ingeridents (Generic Name) : Regorafenib

Company Name: Bayer
Package: 28 Tablets
Strength : 40mg
Indication:
Treating certain patients with colorectal cancer that has spread to other parts of the body. It is also used to treat patients with a type of stomach, bowel, or esophagus cancer called gastrointestinal stromal tumors (GIST). It may also be used for other conditions as determined by your doctor.
Stivarga (Regorafenib) is a kinase inhibitor. It works by helping to stop cancer cells from growing.
Mechanism of action:
Stivarga (Regorafenib) is a small molecule inhibitor of multiple membrane-bound and intracellular kinases involved in normal cellular functions and in pathologic processes such as oncogenesis, tumor angiogenesis, and maintenance of the tumor microenvironment. In in vitro biochemical or cellular assays, Stivarga (Regorafenib) or its major human active metabolites M-2 and M-5 inhibited the activity of RET, VEGFR1, VEGFR2, VEGFR3, KIT, PDGFR-alpha, PDGFR-beta, FGFR1, FGFR2, TIE2, DDR2, TrkA, Eph2A, RAF-1, BRAF, BRAFV600E , SAPK2, PTK5, and Abl at concentrations of Stivarga (Regorafenib) that have been achieved clinically. In in vivo models, Stivarga (Regorafenib) demonstrated anti-angiogenic activity in a rat tumor model, and inhibition of tumor growth as well as anti-metastatic activity in several mouse xenograft models including some for human colorectal carcinoma.
Dosage & Administration:
Use Stivarga (Regorafenib) as directed by your doctor. Check the label on the medicine for exact dosing instructions.
An extra patient leaflet is available with Stivarga (Regorafenib). Talk to your pharmacist if you have questions about this information.
Take Stivarga (Regorafenib) by mouth with water after a low-fat meal. The low-fat meal must be less than 600 calories and less than 30% fat.
Take Stivarga (Regorafenib) at the same time each day.
Swallow Stivarga (Regorafenib) whole. Do not break, crush, or chew before swallowing.
Do not eat grapefruit or drink grapefruit juice while you use Stivarga (Regorafenib).
Usually, Stivarga (Regorafenib) is taken by mouth daily for 21 days and then stopped for 7 days as directed by your doctor. This is called a cycle. Continue to take Stivarga (Regorafenib) as directed by your doctor. Do not miss any doses.
Ask your health care provider any questions you may have about how to use Stivarga (Regorafenib).
Side effects:
All medicines may cause side effects, but many people have no, or minor, side effects. Check with your doctor if any of these most COMMON side effects persist or become bothersome:
Decreased appetite; diarrhea; dry mouth; hair loss; headache; muscle stiffness; nausea; tiredness; voice changes; weakness; weight loss.
Precaution:
Before taking Stivarga (Regorafenib), tell your doctor or pharmacist if you are allergic to it; or if you have any other allergies. This product may contain inactive ingredients, which can cause allergic reactions or other problems. Talk to your pharmacist for more details.
Store:
Store Stivarga (Regorafenib) at room temperature, between 68 and 77 degrees F (20 and 25 degrees C). Store in the original bottle, away from heat, moisture, and light. Tightly close the bottle after each time you open it. Keep the desiccant in the bottle to help keep your medicine dry. Safely discard any unused tablets 7 weeks after opening the bottle. Keep Stivarga (Regorafenib) out of the reach of children and away from pets.
Trade Information
As Per Order Requirement Per Day

1-12 Days
Contact Us
Portion A, First Floor, Old No. 131, New No. 50, Pedariyar Koil Street, Seven Wells Chennai Tamil Nadu India +918045478353
Phone :+918045478353