Sofosbuvir & Ledipasvir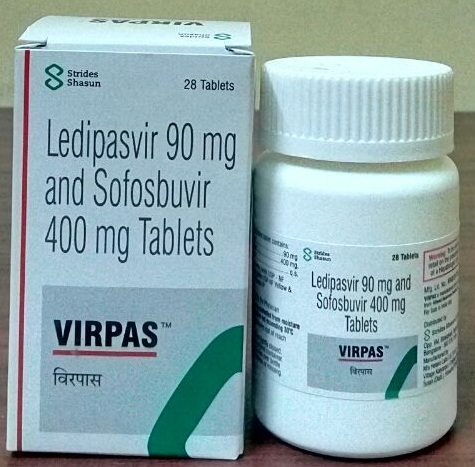 Sofosbuvir & Ledipasvir
Product Description
Virpas (Ledipasvir & Sofosbuvir)
Brand name: Virpas
Active Ingeridents(Generic Name) : Ledipasvir & Sofosbuvir
Company Name: Strides
Strength : Ledipasvir 90mg & Sofosbuvir 400mg
Packing: 28 tablet
Indication:
Treating chronic hepatitis C virus (HCV) infection in certain patients.
Ledipasvir & Sofosbuvir is a combination of 2 hepatitis C virus (HCV) antiviral agents. It reduces the amount of HCV in the body by preventing the spread of the HCV within the body.
Mechanism of action:
Ledipasvir is a potent inhibitor of HCV NS5A, a viral phosphoprotein that plays an important role in viral replication, assembly, and secretion. Sofosbuvir is a nucleotide analog inhibitor of hepatitis C virus NS5B polymerasethe key enzyme mediating HCV RNA replication. The triphosphate form of sofosbuvir (GS-461203) mimics the natural cellular uridine nucleotide and is incorporated by the HCV RNA polymerase into the elongating RNA primer strand, resulting in viral chain termination.
Dosage and Administration:
Ledipasvir & Sofosbuvir (90 mg/400 mg) is a fixed-dose combination tablet . The recommended dosage is one tablet once daily, with or without food.
Side effects:
The following are the Common side effects
fatigue
insomnia
Precaution:
Tell your doctor or dentist that you take Ledipasvir & Sofosbuvir before you receive any medical or dental care, emergency care, or surgery.
Do not share needles, injection supplies, or items like toothbrushes or razors. Talk with your health care provider about ways to prevent the spread of HCV to others.
Store: Ledipasvir & Sofosbuvir room temperature away from moisture and heat
Trade Information
As Per Order requirement Per Day

1-12 Days