Pemnat Pemetrexed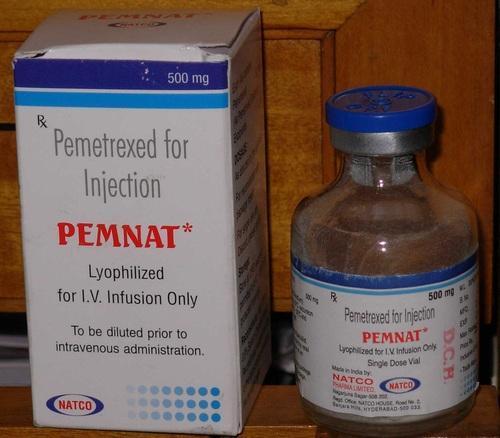 Pemnat Pemetrexed
Product Description
Pemnat (Pemetrexed )
Brand name: Pemnat

Active Ingeridents(Generic Name) : Pemetrexed Inj

Company Name: Natco

Package: 1 Vial

Strength: 500mg
Indication:
It is used in the treatment of pleural mesothelioma and non-small cell lung cancer.
Mechanism of action:
Pemnat (Pemetrexed ) is chemically similar to folic acid and is in the class of chemotherapy drugs called folate antimetabolites. It works by inhibiting three enzymes used in purine and pyrimidine synthesisthymidylate synthase (TS), dihydrofolate reductase (DHFR), andglycinamide ribonucleotide formyltransferase (GARFT). By inhibiting the formation of precursor purine and pyrimidine nucleotides, Pemnat (Pemetrexed) prevents the formation of DNA and RNA, which are required for the growth and survival of both normal cells and cancer cells.
Dosage and Administration:
Pemnat (Pemetrexed) is given as an infusion into the vein (intravenous, IV).
Patients treated with Pemnat (Pemetrexed) will usually require folic acid and vitamin B12 supplementation to reduce treatment related side effects.
The amount of Pemnat (Pemetrexed) that you will receive depends on many factors, including your height and weight, your general health or other health problems, and the type of cancer or condition being treated. Your doctor will determine your dose and schedule.
Ask your health care provider any questions you may have about how to use Pemnat (Pemetrexed) Inj.
Side effects:
The following side effects are common (occurring in greater than 30%) for patients taking Pemnat (Pemetrexed): Low white blood cell count. (This can put you at increased risk for infection), Low red blood cell count , Anemia), Fatigue, Nausea and vomiting, Constipation, Poor appetite, Shortness of breath, Chest pain
These side effects are less common side effects (occurring in about 10-29%) of patients receiving
Pemnat (Pemetrexed ): Low platelet count. (This can put you at increased risk for bleeding), Increase in blood test creatinine, Fever, Mouth sores, Numbness or tingling of hands or feet, Depression, Rash, skin irritation
Precaution:
Before using Pemnat (Pemetrexed ), tell your doctor or pharmacist if you are allergic to it; or if you have any other allergies. This product may contain inactive ingredients, which can cause allergic reactions or other problems. Talk to your pharmacist for more details.
This medication should not be used if you have certain medical conditions. Before using this medicine, consult your doctor or pharmacist if you have: severe kidney disease.
Store: Pemnat (Pemetrexed ) Inj room temperature away from moisture and heat.

Product Details:
| | |
| --- | --- |
| Packaging Size | 500mg |
| Packaging Type | 1 Vial |
| Dose/Strength (ex. 1 mg or 1 ml) | 500mg |
| Usage | Clinical, Hospital, Personal |
Contact Us
Portion A, First Floor, Old No. 131, New No. 50, Pedariyar Koil Street, Seven Wells Chennai Tamil Nadu India +918045478353
Phone :+918045478353