Lenzest Lenalidomide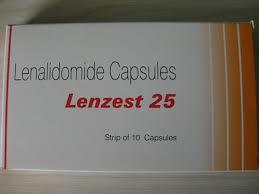 Lenzest Lenalidomide
Product Description
Lenzest (Lenalidomide)
Brand name: Lenzest

Active Ingeridents(Generic Name) : Lenalidomide

Company Name: Sun Pharma

Package:10 Capsules

Strength : 25mg
Indication:
This medicine is Treating anemia in patients who have certain types of myelodysplastic syndrome (MDS). It is also used along with dexamethasone to treat multiple myeloma (MM) in certain patients. It is also used to treat mantle cell lymphoma (MCL) in certain patients. It may also be used for other conditions as determined by your doctor.
Mechanism of action:
Lenzest (Lenalidomide) has been used to successfully treat both inflammatory disorders and cancers in the past 10 years. There are multiple mechanisms of action, and they can be simplified by organizing them as mechanisms of action in vitro and in vivo. In vitro, Lenzest (Lenalidomide) has three main activities: direct anti-tumor effect, inhibition of angiogenesis, and immunomodulatory role. In vivo, Lenzest (Lenalidomide) induces tumor cell apoptosis directly and indirectly by inhibition of bone marrow stromal cell support, by anti-angiogenic and anti-osteoclastogenic effects, and by immunomodulatory activity. Lenzest (Lenalidomide) has a broad range of activities that can be exploited to treat many hematologic and solid cancers.
Dosage and Administration:
Lenzest (Lenalidomide) is taken as capsules by mouth. Swallow whole with water. Do not break, chew, or open capsules.

If you miss a dose of Lenzest (Lenalidomide), take it as soon as you remember that day. If you miss taking your dose for the entire day, go back to taking your regular dose the next day. Do not take 2 doses at the same time.
Side effects:
The following side effects are common (occurring in greater than 30%) for patients taking Lenzest (Lenalidomide):
Low blood counts . Your white blood cells and platelets may temporarily decrease. This can put you at increased risk for infection and/or bleeding. Blood counts are monitored closely and dose adjustments may be necessary.

Diarrhea , Itching, Rash , Fatigue, tiredness
These are less common side effects for patients receiving Lenzest (Lenalidomide):
Constipation, Nausea, Sore throat, Generalized aches and pains , Fever , Back pain , Swelling of ankles or feet , Cough , Dizziness , Headache , Muscle cramps, Shortness of breath , Generalized weakness, Nose bleed , Infection, Dry skin , Anemia (low red blood cell count) , Pneumonia , Low potassium , Difficulty sleeping , Poor appetite, Vomiting
Precaution:
Before starting Lenzest (Lenalidomide) treatment, make sure you tell your doctor about any other medications you are taking (including prescription, over-the-counter, vitamins, herbal remedies, etc.).

Do not receive any kind of immunization or vaccination without your doctors approval while taking Lenzest (Lenalidomide).
Store: Lenzest (Lenalidomide) at room temperature, 59o to 86oF (15o to 30o C)
Trade Information
As Per Order Requirement Per Day

1-12 Days
Contact Us
Portion A, First Floor, Old No. 131, New No. 50, Pedariyar Koil Street, Seven Wells Chennai Tamil Nadu India +918045478353
Phone :+918045478353