Lenvima Lenvatinib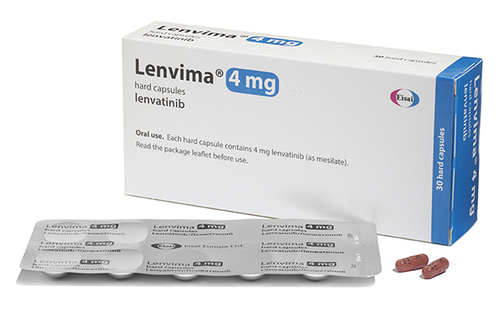 Lenvima Lenvatinib
Product Description
Lenvima (Lenvatinib)
Brand name: Lenvima
Active Ingeridents(Generic Name) : Lenvatinib
Company Name: Eisai
Package: 30 capsules
Strength: 4mg
Indication:
This medication is used to treat thyroid cancer (differentiated type) that is progressing and can no longer be treated with radioactive iodine. Lenvima (Lenvatinib)belongs to a class of drugs known as tyrosine kinase inhibitors. It works by slowing or stopping the growth of cancer cells.
Mechanism of action:
Lenvima (Lenvatinib)is a receptor tyrosine kinase (RTK) inhibitor that inhibits the kinase activities of vascular endothelial growth factor (VEGF) receptors VEGFR1 (FLT1), VEGFR2 (KDR), and VEGFR3 (FLT4). Lenvima (Lenvatinib)also inhibits other RTKs that have been implicated in pathogenic angiogenesis, tumor growth, and cancer progression in addition to their normal cellular functions, including fibroblast growth factor (FGF) receptors FGFR1, 2, 3, and 4; the platelet derived growth factor receptor alpha (PDGFR), KIT, and RET.
Dosage and Administration:
Lenvima (Lenvatinib)is a pill, taken by mouth, once daily. It can be taken with or without food.
Take Lenvima (Lenvatinib)exactly as prescribed.
Swallow Lenvima (Lenvatinib)capsules whole. Do not crush, dissolve or open capsules.
Do not change your dose or stop Lenvima (Lenvatinib)unless your health care provider tells you to.
If you miss a dose, take it as soon as you remember. If your next dose is within 12 hours, skip the missed dose and take the next dose at your regular time.
Do not take more than 1 dose of Lenvima (Lenvatinib)at one time. Call your health care provider right away if you take too much.
The amount of Lenvima (Lenvatinib)that you will receive depends on many factors, your general health or other health problems, and the type of cancer or condition being treated.
Dose modifications are often made so it is important to let your healthcare provider know of any side effects.
Side effects:
Dry mouth, hoarseness, nose bleeds, tiredness, weight loss, headache, muscle/joint pain, trouble sleeping, change in taste, diarrhea, constipation, upset stomach, nausea, vomiting, or loss of appetite may occur. Nausea and vomiting can be severe. In some cases, your doctor may prescribe medication to prevent or relieve nausea and vomiting. Eating several small meals, not eating before treatment, or limiting activity may help lessen some of these effects. If any of these effects persist or worsen, tell your doctor or pharmacist promptly.
Precaution:
Before taking lenvatinib, tell your doctor or pharmacist if you are allergic to it; or if you have any other allergies. This product may contain inactive ingredients, which can cause allergic reactions or other problems. Talk to your pharmacist for more details.
Store: Store at room temperature, away from heat, moisture, Keep out of the reach of children. Do not keep outdated medicine or medicine no longer needed.


Trade Information
As Per Order Requirement Per Day

1-12 Days