LamivirHBV Lamivudine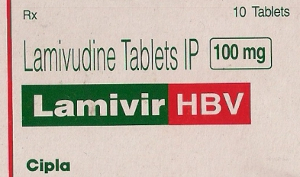 LamivirHBV Lamivudine
Product Description
LamivirHBV (Lamivudine)
Brand name: LamivirHBV
Active Ingeridents(Generic Name) : Lamivudine
Company Name: Cipla
Package:10 Tablets
Strength : 100mg
Indication:
This drug is used with other HIV medications to help control HIV infection. It helps to decrease the amount of HIV in your body so your immune system can work better. This lowers your chance of getting HIV complications (such as new infections, cancer) and improves your quality of life. LamivirHBV (Lamivudine) belongs to a class of drugs known as nucleoside reverse transcriptase inhibitors-NRTI.
Mechanism of action:
LamivirHBV (Lamivudine) is an analogue of cytidine. It can inhibit both types of HIV reverse transcriptase and also the reverse transcriptase of hepatitis B virus. It is phosphorylated to active metabolites that compete for incorporation into viral DNA. They inhibit the HIV reverse transcriptase enzyme competitively and act as a chain terminator of DNA synthesis. The lack of a 3'-OH group in the incorporated nucleoside analogue prevents the formation of the 5' to 3' phosphodiester linkage essential for DNA chain elongation, and therefore, the viral DNA growth is terminated.
LamivirHBV (Lamivudine) is administered orally, and it is rapidly absorbed with a bio-availability of over 80%. Some research suggests that LamivirHBV (Lamivudine) can cross the bloodbrain barrier. LamivirHBV (Lamivudine) is often given in combination with zidovudine, with which it is highly synergistic. LamivirHBV (Lamivudine) treatment has been shown to restore zidovudine sensitivity of previously resistant HIV. LamivirHBV (Lamivudine) showed no evidence of carcinogenicity or mutagenicity in in vivo studies in mice and rats at doses from 10 to 58 times those used in humans.
Dosage and Administration:
Use LamivirHBV (Lamivudine) as directed by your doctor. Check the label on the medicine for exact dosing instructions.
An extra patient leaflet is available with LamivirHBV (Lamivudine). Talk to your pharmacist if you have questions about this information.
Take LamivirHBV (Lamivudine) by mouth with or without food.

Continue to take LamivirHBV (Lamivudine) even if you feel well. Do not miss any doses.

Taking LamivirHBV (Lamivudine) at the same time each day will help you remember to take it.

f you miss a dose of LamivirHBV (Lamivudine), take it as soon as possible. If it is within 2 hours of your next dose, skip the missed dose and go back to your regular dosing schedule. Do not take 2 doses at once.
Side effects:
See also Warning section.
Headache, dizziness, nausea, diarrhea, or trouble sleeping may occur. If any of these effects persist or worsen, notify your doctor or pharmacist promptly.
Precaution:
Before taking LamivirHBV (Lamivudine), tell your doctor or pharmacist if you are allergic to it; or if you have any other allergies. This product may contain inactive ingredients, which can cause allergic reactions or other problems. Talk to your pharmacist for more details.
Before using this medication, tell your doctor or pharmacist your medical history, especially of: pancreatitis, kidney problems, liver problems (such as hepatitis B or C, cirrhosis), alcohol use.
Store:
Store LamivirHBV (Lamivudine) at room temperature, between 68 and 77 degrees F (20 and 25 degrees C). Store away from heat, moisture, and light.
Specification
| | |
| --- | --- |
| Minimum Order Quantity | 1 Strip |
| Packaging Size | strips |
| Dose/Strength (ex. 1 mg or 1 ml) | 150 mg |
| Usage | Hospital, Personal, Clinical |
Contact Us
Portion A, First Floor, Old No. 131, New No. 50, Pedariyar Koil Street, Seven Wells Chennai Tamil Nadu India +918045478353
Phone :+918045478353