Jevtana Cabazitaxel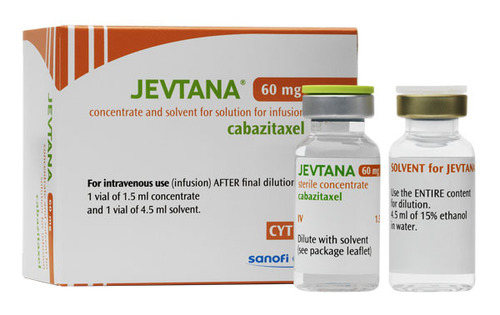 Jevtana Cabazitaxel
Product Description
Jevtana (Cabazitaxel)
Brand name: Jevtana
Active Ingeridents (Generic Name) : Cabazitaxel
Company Name: Sanafi
Package: Vial
Strength : 60mg
Indication:
Jevtana (Cabazitaxel) is used with another medication (prednisone) to treat prostate cancer. It works by slowing or stopping the growth of cancer cells.
Mechanism of action:
Jevtana (Cabazitaxel) is a microtubule inhibitor. Jevtana (Cabazitaxel) binds to tubulin and promotes its assembly into microtubules while simultaneously inhibiting disassembly. This leads to the stabilization of microtubules, which results in the interference of mitotic and interphase cellular functions. The cell is then unable to progress further into the cell cycle, being stalled at metaphase, thus triggering apoptosis of the cancer cell.
Dosage & Administration:
Use Jevtana (Cabazitaxel) as directed by your doctor. Check the label on the medicine for exact dosing instructions.
An extra patient leaflet is available with Jevtana (Cabazitaxel). Talk to your pharmacist if you have questions about this information.
Jevtana (Cabazitaxel) is given as an injection at your doctor's office, hospital, or clinic. Contact your health care provider if you have any questions.
You will receive certain other medicines at least 30 minutes before each treatment with Jevtana (Cabazitaxel). This will help decrease the chance of having an allergic reaction to Jevtana (Cabazitaxel). Discuss any questions with your doctor.
Ask your health care provider any questions you may have about how to use Jevtana (Cabazitaxel)
Side effects:.
See also Warning section.
Loss of appetite, stomach/abdominal pain, or change in sense of taste may occur. If any of these effects persist or worsen, tell your doctor or pharmacist promptly.
Nausea, vomiting, and diarrhea can also occur and may be severe. Tell your doctor right away if these effects occur. In some cases, your doctor may prescribe medication to prevent or relieve nausea, vomiting, or diarrhea. Eating several small meals, not eating before treatment, or limiting activity may help to lessen the nausea and vomiting.
Precaution:
Before receiving Jevtana (Cabazitaxel), tell your doctor or pharmacist if you are allergic to it; or to polysorbate 80; or if you have any other allergies. This product may contain other inactive ingredients, which can cause allergic reactions or other problems. Talk to your pharmacist for more details.
Store: Store at room temperature away from moisture and heat.
Trade Information
As Per Order Requirement Per Day

1-12 Days
Contact Us
Portion A, First Floor, Old No. 131, New No. 50, Pedariyar Koil Street, Seven Wells Chennai Tamil Nadu India +918045478353
Phone :+918045478353