Invista 70mg Tablets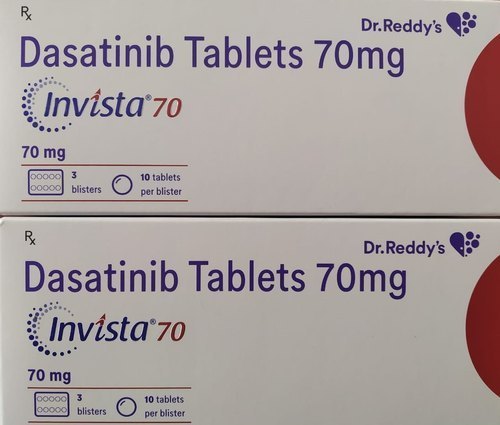 Invista 70mg Tablets
Product Description
Invista 70mg
Tablet is used in the treatment of blood cancer (chronic myeloid leukaemia). It is used in patients whose disease could not be treated with other medications for leukaemia or who cannot take these medications because of side effects.

Invista 70mg
Tablet can be taken with or without food, but try to have it at the same time every day to get the most benefits. Your doctor will decide what dose is necessary and how often you need to take it. This will depend on what you are being treated for and may change from time to time. You should take it exactly as your doctor has advised. Taking it in the wrong way or taking too much can cause very serious side effects. It may take several weeks or months for you to see or feel the benefits but do not stop taking it unless your doctor tells you to.
Nausea, vomiting, abdominal pain and rash are some common side effects of this medicine. In some cases, it may cause increased heartbeat and low or high blood pressure, if it happens consult with your doctor. Your doctor might check your blood pressure regularly. It is advised to avoid antacid intake within 2 hours of taking this medicine. This medicine may reduce the number of blood cells in your blood, thereby, increasing the susceptibility to infections. Regular blood tests are required to check your blood cells.
Many other medicines can affect, or be affected by, this medicine so let your healthcare team know all medications you are using. This medicine is not recommended during pregnancy or while breastfeeding. You must avoid driving if you experience dizziness or blurred vision during treatment.USES OF INVISTA TABLET
Blood cancer (Chronic myeloid leukaemia)