Idrofos Ibandronic acid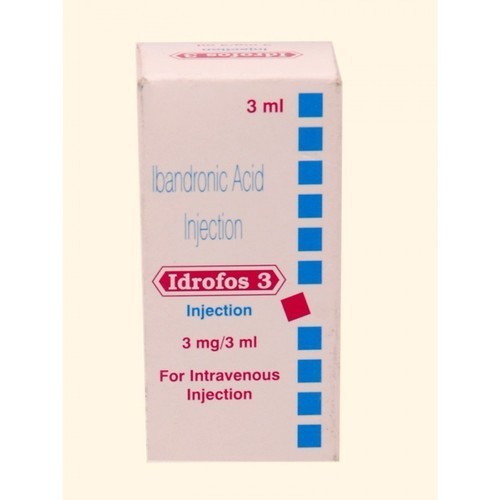 Idrofos Ibandronic acid
Product Description
Idrofos (Ibandronic acid)
Brand name:Idrofos 3

Active Ingeridents (Generic Name) : Ibandronic acid

Company Name: Sun Pharma

Package: Vial

Strength : 3mg/3ml
Indication:
It is used in the prevention and treatment of osteoporosis and metastasis-associated skeletal fractures in people with cancer. It may also be used to treat hypercalcemia (elevated blood calcium levels).
Also, Treating osteoporosis (weak bones) in women who are past menopause. It may also be used for other conditions as determined by your doctor. Ibandronate is a bisphosphonate. It works by slowing bone loss and allowing new bone to be formed.
Mechanism of action:
The action of Idrofos (Ibandronic acid)on bone tissue is based partly on its affinity for hydroxyapatite, which is part of the mineral matrix of bone. Nitrogen-containing bisphosphonates (such as pamidronate, alendronate, risedronate, ibandronate and zoledronate) appear to act as analogues of isoprenoid diphosphate lipids, thereby inhibiting farnesyl pyrophosphate (FPP) synthase, an enzyme in the mevalonate pathway. Inhibition of this enzyme in osteoclasts prevents the biosynthesis of isoprenoid lipids (FPP and GGPP) that are essential for the post-translational farnesylation and geranylgeranylation of small GTPase signalling proteins. This activity inhibits osteoclast activity and reduces bone resorption and turnover. In postmenopausal women, it reduces the elevated rate of bone turnover, leading to, on average, a net gain in bone mass.
Dosage & Administration:
Use Idrofos (Ibandronic acid)as directed by your doctor. Check the label on the medicine for exact dosing instructions.
Idrofos (Ibandronic acid)comes with an extra patient information sheet called a Medication Guide. Read it carefully. Read it again each time you get Idrofos (Ibandronic acid)refilled.

Idrofos (Ibandronic acid) is given as an injection at your doctor's office, hospital, or clinic. Contact your health care provider if you have any questions.

If you miss your scheduled dose of Idrofos (Ibandronic acid), contact your doctor to reschedule it as soon as possible. Do not receive your injection more often than once every 3 months.
Ask your health care provider any questions you may have about how to use Idrofos (Ibandronic acid).
Side effects:
All medicines may cause side effects, but many people have no, or minor, side effects. Check with your doctor if any of these most COMMON side effects persist or become bothersome:
Diarrhea; dizziness; headache; heartburn; mild arm, back, leg, muscle, or joint pain; mild flu-like symptoms (eg, mild fever, chills, tiredness, weakness, joint or muscle aches); nausea; pain, swelling, or redness at the injection site; stomach pain or upset.
Precaution:
Before taking Idrofos (Ibandronic acid), tell your doctor or pharmacist if you are allergic to it; or to other bisphosphonates; or if you have any other allergies.
Store:
Idrofos (Ibandronic acid)is handled and stored by a health care provider. You will not store it at home. Keep all medicines out of the reach of children and away from pets..
Trade Information
As Per Order Requirement Per Day

1-12 Days
Contact Us
Portion A, First Floor, Old No. 131, New No. 50, Pedariyar Koil Street, Seven Wells Chennai Tamil Nadu India +918045478353
Phone :+918045478353