Gefticip Gefitinib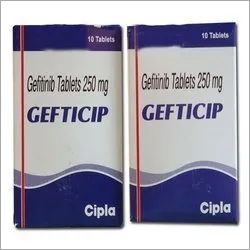 Gefticip Gefitinib
Product Description
Gefticip (Gefitinib)
Brand name: Gefticip
Active Ingeridents(Generic Name) : Gefitinib
Company Name: Cipla
Package: 10 Tabs
Strength: 250mg
Indication:
Treating non-small cell lung cancer after other cancer chemotherapy treatments have not been successful. It may also be used for other conditions as determined by your doctor.
Gefticip (Gefitinib ) is a cancer chemotherapy agent. It works by blocking a certain protein (an enzyme called tyrosine kinase). This helps to stop the cancer from growing and spreading.
Mechanism of action:
Gefticip (Gefitinib ) is the first selective inhibitor of epidermal growth factor receptor's (EGFR) tyrosine kinase domain. Thus Gefticip (Gefitinib ) is an EGFR inhibitor. The target protein (EGFR) is a family of receptors which includes Her1(erb-B1), Her2(erb-B2), and Her 3(erb-B3). EGFR is overexpressed in the cells of certain types of human carcinomas - for example in lung and breast cancers. This leads to inappropriate activation of the anti-apoptotic Ras signalling cascade, eventually leading to uncontrolled cell proliferation. Research on Gefticip (Gefitinib )-sensitive non-small cell lung cancers has shown that a mutation in the EGFR tyrosine kinase domain is responsible for activating anti-apoptotic pathways.These mutations tend to confer increased sensitivity to tyrosine kinase inhibitors such as Gefticip (Gefitinib ) and erlotinib. Of the types of non-small cell lung cancer histologies, adenocarcinoma is the type that most often harbors these mutations. These mutations are more commonly seen in Asians, women, and non-smokers (who also tend to more often have adenocarcinoma).
Gefticip (Gefitinib ) inhibits EGFR tyrosine kinase by binding to the adenosine triphosphate (ATP)-binding site of the enzyme.Thus the function of the EGFR tyrosine kinase in activating the anti-apoptotic Ras signal transduction cascade is inhibited, and malignant cells are inhibited.
Dosage and Administration:
Gefticip (Gefitinib ) is a pill, taken by mouth, once daily. It can be taken with or without food.
The amount of Gefticip (Gefitinib ) that you will receive depends on many factors, your general health or other health problems, and the type of cancer or condition being treated. Current recommendation is for one tablet daily, higher doses do not give a better response and may cause increased toxicity. Your doctor will determine your dose and schedule.
Side Effects:
All medicines may cause side effects, but many people have no, or minor, side effects. Check with your doctor if any of these most COMMON side effects persist or become bothersome:
Acne; diarrhea; dry skin; loss of appetite; mouth ulcers; nausea; unusual weakness; vision problems; vomiting; weight loss.
Precaution:
Before starting Gefticip (Gefitinib ) treatment, make sure you tell your doctor about any other medications you are taking (including prescription, over-the-counter, vitamins, herbal remedies, etc.). Do not take aspirin, or products containing aspirin unless your doctor specifically permits this.
Do not receive any kind of immunization or vaccination without your doctor's approval while taking Gefticip (Gefitinib ).
Store: Gefticip (Gefitinib ) room temperature away from moisture and heat or cold. Do not freeze.
Contact Us
Portion A, First Floor, Old No. 131, New No. 50, Pedariyar Koil Street, Seven Wells Chennai Tamil Nadu India +918045478353
Phone :+918045478353