Evertor Everolimus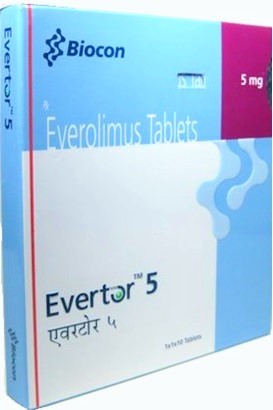 Evertor Everolimus
Product Description
Evertor (Everolimus)
Brand name: Evertor
Active Ingeridents(Generic Name) :Everolimus
Company Name: Biocon
Package: 10 tabs in a strip
Strength : 5mg
Indication:
Evertor (Everolimus) is used to treat a certain type of advanced breast cancer that has already been treated with at least one other medication. Evertor (Everolimus) is also used to treat a certain type of cancer of the pancreas that has spread or progressed and that cannot be treated with surgery
Mechanism of action:
Evertor (Everolimus) is a mTOR inhibitor that binds with high affinity to the FK506 binding protein-12 (FKBP-12), thereby forming a drug complex that inhibits the activation of mTOR. This inhibition reduces the activity of effectors downstream, which leads to a blockage in the progression of cells from G1 into S phase, and subsequently inducing cell growth arrest and apoptosis. Evertor (Everolimus) also inhibits the expression of hypoxia-inducible factor, leading to a decrease in the expression of vascular endothelial growth factor. The result of Evertor (Everolimus) inhibition of mTOR is a reduction in cell proliferation, angiogenesis, and glucose uptake.
Dosage and Administration:
Evertor (Everolimus) is given as a tablet by mouth.

Take at the same time each day, may be taken with or without food.

Swallow whole with a glass of water, do not chew or crush tablets.

Avoid contact with or exposure to crushed or broken tablets.

The amount of Evertor (Everolimus) that you will receive will be prescribed by your doctor based on established dosing guidelines.
Side effects:
Stop using Evertor (Everolimus) and call your doctor at once if you have: Common Evertor (Everolimus) side effects may include:
infections, cough, nosebleeds; mouth sores, taste problems, dry mouth; nausea, vomiting, diarrhea, constipation; weight loss, feeling weak or tired;, pain or swelling anywhere in your body; dry skin, rash, acne; missed menstrual periods; unusual changes in mood or behavior; sleep problems (insomnia); dizziness, headache; high blood sugar - increased thirst or urination, hunger, fruity breath odor, blurred vision.
Precaution:
Before starting Evertor (Everolimus) treatment, make sure you tell your doctor about any other medications you are taking (including prescription, over-the-counter, vitamins, herbal remedies, etc.).

Do not receive any kind of immunization or vaccination without your doctors approval while taking Evertor (Everolimus) .
Store: Evertor (Everolimus) room temperature away from moisture and heat
Trade Information
As Per Order Requirement Per Day

1-12 Days
Contact Us
Portion A, First Floor, Old No. 131, New No. 50, Pedariyar Koil Street, Seven Wells Chennai Tamil Nadu India +918045478353
Phone :+918045478353