Erlonat Erlotinib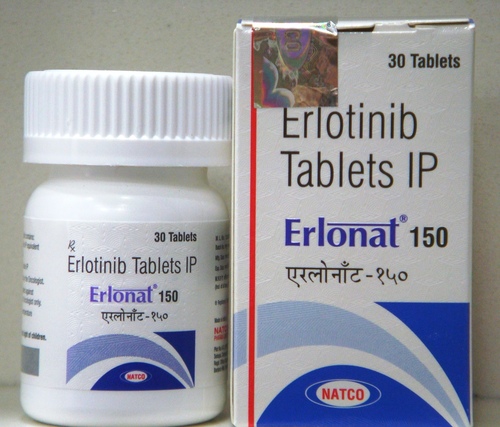 Erlonat Erlotinib
Product Description
Erlonat (Erlotinib)
Brand name: Erlonat
Active Ingeridents(Generic Name) : Erlotinib
Company Name: Natco
Package: 30 tabs
Strength: 150mg
Indication:
It is used to treat non-small cell lung cancer (NSCLC), pancreatic cancer and several other types of cancer. It is a reversible tyrosine kinase inhibitor, which acts on the epidermal growth factor receptor (EGFR).
Mechanism of action:
Erlonat (Erlotinib) is an epidermal growth factor receptor inhibitor (EGFR inhibitor). The drug follows gefitinib, which was the first drug of this type. Erlonat (Erlotinib) specifically targets the epidermal growth factor receptor (EGFR) tyrosine kinase, which is highly expressed and occasionally mutated in various forms of cancer. It binds in a reversible fashion to the adenosine triphosphate (ATP) binding site of the receptor. For the signal to be transmitted, two EGFR molecules need to come together to form a homodimer. These then use the molecule of ATP to trans-phosphorylate each other on tyrosine residues, which generates phosphotyrosine residues, recruiting the phosphotyrosine-binding proteins to EGFR to assemble protein complexes that transduce signal cascades to the nucleus or activate other cellular biochemical processes. When Erlonat (Erlotinib) binds to EGFR, formation of phosphotyrosine residues in EGFR is not possible and the signal cascades are not initiated.
Dosage and Administration:
Use Erlonat (Erlotinib) as directed by your doctor. Check the label on the medicine for exact dosing instructions.
Take Erlonat (Erlotinib) by mouth with a glass of water on an empty stomach at least 1 hour before or 2 hours after eating.
Wash your hands immediately after taking Erlonat (Erlotinib).
Take Erlonat (Erlotinib) on a regular schedule to get the most benefit from it. Taking Erlonat (Erlotinib) at the same time each day will help you to remember to take it.
If you miss a dose of Erlonat (Erlotinib), contact your doctor right away.
Side effects:
Important things to remember about the side effects of Erlonat (Erlotinib):
The following side effects are common (occurring in greater than 30%) for patients taking Erlonat (Erlotinib):
Rash , Diarrhea, Poor appetite, Fatigue, Shortness of breath, Cough, Nausea and vomiting
These side effects are less common side effects (occurring in about 10-29%) of patients receiving Erlonat (Erlotinib):
Infection, Mouth sores, Itching, Dry skin, Eye irritation, Abdominal pain
Precaution:
Before starting Erlonat (Erlotinib) treatment, make sure you tell your doctor about any other medications you are taking (including prescription, over-the-counter, vitamins, herbal remedies, etc.). Certain medications can interfere with the levels/effects of Erlonat (Erlotinib). It is important your oncologist is aware of all medications. Do not take aspirin, or products containing aspirin unless your doctor specifically permits this.
Store: Erlonat (Erlotinib) room temperature away from moisture and heat.
Specification
| | |
| --- | --- |
| Minimum Order Quantity | 1 Bottle |
| Dose | Erlotinib 150mg |
| Usage | Clinical, Commercial, Hospital, Personal |
| Packaging Size | 30 Tablets in a bottle |
| Packaging Type | Bottle |
Contact Us
Portion A, First Floor, Old No. 131, New No. 50, Pedariyar Koil Street, Seven Wells Chennai Tamil Nadu India +918045478353
Phone :+918045478353