Empetus Ritonavir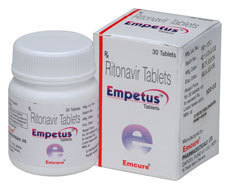 Empetus Ritonavir
Product Description
Empetus (Ritonavir)
Brand name: Empetus
Active Ingeridents(Generic Name) :

Ritonavir

Company Name: Emcure
Package:30 Tablets/Bottle
Strength : 100mg
Indication:
Empetus (Ritonavir) is an antiretroviral medication used along with other medications to treat HIV/AIDS This combination treatment is known as highly active antiretroviral therapy . Often a low dose is used with other protease inhibitors. It may also be used in combination with other medications for hepatitis C.
Mechanism of action:
Empetus (Ritonavir) was originally developed as an inhibitor of HIV protease. It is one of the most complex inhibitors. It is now rarely used for its own antiviral activity, but remains widely used as a booster of other protease inhibitors. More specifically, Empetus (Ritonavir) is used to inhibit a particular liver enzyme that normally metabolizes protease inhibitors, cytochrome P450-3A4 (CYP3A4). The drug's molecular structure inhibits CYP3A4, so a low dose can be used to enhance other protease inhibitors. This discovery, which has drastically reduced the adverse effects and improved the efficacy of protease inhibitors and HAART, was first communicated in an article published in the journal AIDS in 1997 by researchers at the University of Liverpool. This effect does come with a price: it also affects the efficacy of numerous other medications, making it difficult to know how to administer them concurrently.
Dosage and Administration:
Use Empetus (Ritonavir) as directed by your doctor. Check the label on the medicine for exact dosing instructions.

An extra patient leaflet is available with Empetus (Ritonavir). Talk to your pharmacist if you have questions about this information.

Take Empetus (Ritonavir) by mouth with meals.
Swallow Empetus (Ritonavir) whole. Do not break, crush, or chew before swallowing.
Continue to take Empetus (Ritonavir) even if you feel well. Do not miss any doses.
If you miss a dose of Empetus (Ritonavir), take it as soon as you remember. If it is almost time for your next dose, skip the missed dose and go back to your regular dosing schedule. It is important not to miss doses of Empetus (Ritonavir). Do not take 2 doses at once.
Side effects:
All medicines may cause side effects, but many people have no, or minor, side effects. Check with your doctor if any of these most COMMON side effects persist or become bothersome:
Abnormal skin sensations, especially around the mouth, fingers, and toes; diarrhea; headache; loss of appetite; mild stomach pain; nausea; taste changes; tiredness; vomiting; weakness.
Precaution:
Before taking Empetus (Ritonavir), tell your doctor or pharmacist if you are allergic to it; or if you have any other allergies. This product may contain inactive ingredients, which can cause allergic reactions or other problems. Talk to your pharmacist for more details.
Before using this medication, tell your doctor or pharmacist your medical history, especially of: diabetes, heart problems (coronary artery disease, heart attack), hemophilia, high cholesterol/triglycerides, gout/high uric acid in the blood, liver problems (such as hepatitis B, hepatitis C), pancreatitis
Store:
Store Empetus (Ritonavir) in the original container at room temperature up to 86 degrees F (30 degrees C). If stored outside of the original container, throw away any part not used after 2 weeks. Storage at temperatures up to 122 degrees F (50 degrees C) is permitted for up to 7 days. Store away from heat, moisture, and light.
Specification
| | |
| --- | --- |
| Packaging Size | 30 Tabs |
| Packaging Type | 1 Bottle |
| Dose/Strength (ex. 1 mg or 1 ml) | 100mg |
| Usage | Hospital, Personal, Clinical |
Contact Us
Portion A, First Floor, Old No. 131, New No. 50, Pedariyar Koil Street, Seven Wells Chennai Tamil Nadu India +918045478353
Phone :+918045478353