Duovir Zidovudine /Lamivudine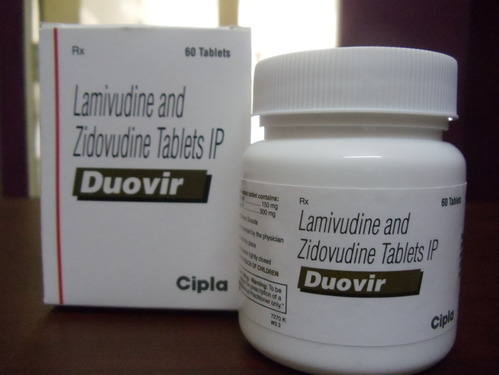 Duovir Zidovudine /Lamivudine
Product Description
Duovir (Zidovudine /Lamivudine)
Brand name: Duovir
Active Ingeridents(Generic Name) : Zidovudine /Lamivudine
Company Name: Cipla
Package :60 Tablets /Bottle
Strength : Zidovudine 300mg + Lamivudine 150mg
Indication:

Duovir (Zidovudine /Lamivudine) are antiviral medications that prevent human immunodeficiency virus (HIV) cells from multiplying in your body.

Duovir (Zidovudine /Lamivudine) is a combination medicine used to treat HIV, which causes the acquired immunodeficiency syndrome (AIDS). This medicine is not a cure for HIV or AID.

Mechanism of action:

Zidovudine:

Zidovudine, a structural analog of thymidine, is a prodrug that must be phosphorylated to its active 5-triphosphate metabolite, zidovudine triphosphate (ZDV-TP). It inhibits the activity of HIV-1 reverse transcriptase (RT) via DNA chain termination after incorporation of the nucleotide analogue. It competes with the natural substrate dGTP and incorporates itself into viral DNA. It is also a weak inhibitor of cellular DNA polymerase and .

Lamivudine:

Lamivudine is a synthetic nucleoside analogue and is phosphorylated intracellularly to its active 5'-triphosphate metabolite, lamivudine triphosphate (L-TP). This nucleoside analogue is incorporated into viral DNA by HIV reverse transcriptase and HBV polymerase, resulting in DNA chain termination.

Dosage and Administration:
Follow all directions on your prescription label. Do not take this medicine in larger or smaller amounts or for longer than recommended.
Duovir (Zidovudine /Lamivudine) can be taken with or without food.
HIV/AIDS is usually treated with a combination of drugs. Use all medications as directed by your doctor. Read the medication guide or patient instructions provided with each medication. Do not change your doses or medication schedule without your doctor's advice. Every person with HIV or AIDS should remain under the care of a doctor.
Side effects:
Headache, tiredness, loss of appetite, nausea, vomiting, diarrhea, trouble sleeping, dizziness, or stuffy nose may occur. If any of these effects persist or worsen, tell your doctor or pharmacist promptly.
Precaution:
Before taking Duovir (Zidovudine /Lamivudine), tell your doctor or pharmacist if you are allergic to either drug; or if you have any other allergies. This product may contain inactive ingredients, which can cause allergic reactions or other problems. Talk to your pharmacist for more details.
Before using this medication, tell your doctor or pharmacist your medical history, especially of: kidney problems, liver problems (such as hepatitis B or C, cirrhosis), disease of the pancreas (pancreatitis), alcohol use, low red/white blood cell counts.
Store: Duovir (Zidovudine /Lamivudine) room temperature away from moisture and heat or cold. Do not freeze.
Specification
| | |
| --- | --- |
| Packaging Size | 60 Tablets |
| Packaging Type | Bottle |
| Dose/Strength (ex. 1 mg or 1 ml) | Lamivudine 150mg and Zidovudine 300mg |
| Usage | Hospital, Personal, Clinical |
Contact Us
Portion A, First Floor, Old No. 131, New No. 50, Pedariyar Koil Street, Seven Wells Chennai Tamil Nadu India +918045478353
Phone :+918045478353