Doxorubicin Hcl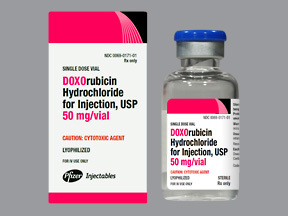 Doxorubicin Hcl
Product Description
Doxorubicin Hcl
Active Ingredient: Doxorubicin

Company name:Pfizer

Package:Vial

Strength:50mg
Indication:
Doxorubicin is an anthracycline type of chemotherapy that is used alone or with other treatments/medications to treat several different types of cancer. Doxorubicin works by slowing or stopping the growth of cancer cells.
Mechanism of action:
Doxorubicin has antimitotic and cytotoxic activity through a number of proposed mechanisms of action: Doxorubicin forms complexes with DNA by intercalation between base pairs, and it inhibits topoisomerase II activity by stabilizing the DNA-topoisomerase II complex, preventing the religation portion of the ligation-religation reaction that topoisomerase II catalyzes.
Dosage & Administration:
Use doxorubicin as directed by your doctor. Check the label on the medicine for exact dosing instructions.
An extra patient leaflet is available with doxorubicin. Talk to your pharmacist if you have questions about this information.

Doxorubicin is usually administered as an injection at your doctor's office, hospital, or clinic. Ask your doctor any questions that you may have about doxorubicin.

Do not use doxorubicin if it contains particles, is cloudy or discolored, or if the vial is cracked or damaged.

Drinking extra fluids while you are using doxorubicin is recommended. Check with your doctor for instructions.

Your doctor may prescribe another medicine to lessen nausea and vomiting that can occur when using doxorubicin. Discuss any questions with your doctor.

If you spill doxorubicin on your skin, wash it off right away with soap and water and contact your doctor.
Ask your health care provider any questions you may have about how to use doxorubicin.
Side Effects:
Nausea, vomiting, diarrhea, and loss of appetite may occur. Nausea and vomiting can be severe. In some cases, drug therapy may be needed to prevent or relieve nausea and vomiting. Not eating before your treatment may help relieve vomiting. Changes in diet and lifestyle, such as eating several small meals and limiting activity, may help lessen some of these effects. If any of these effects continue or worsen, notify your doctor or pharmacist.
Precaution:
Before using doxorubicin, tell your doctor or pharmacist if you are allergic to it; or to lincomycin; or if you have any other allergies. This product may contain inactive ingredients, which can cause allergic reactions or other problems. Talk to your pharmacist for more details.
Store:
Doxorubicin is usually handled and stored by a health care provider. If you are using doxorubicin at home, store doxorubicin as directed by your pharmacist or health care provider. Keep doxorubicin out of the reach of children and away from pets.
Trade Information
As Per Order Requirement Per Day

1-12 Days
Contact Us
Portion A, First Floor, Old No. 131, New No. 50, Pedariyar Koil Street, Seven Wells Chennai Tamil Nadu India +918045478353
Phone :+918045478353