Decitabine Injection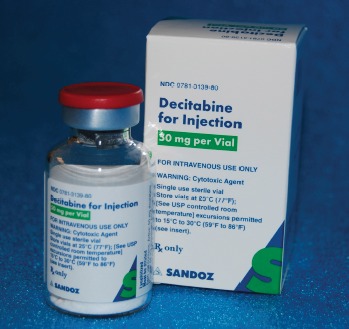 Decitabine Injection
Product Description
Decitabine Injection
Brand name: Decitabine Injection
Active Ingeridents(Generic Name) : Decitabine
Company Name: Sandoz
Package: Vial
Strength: 50mg
Indication:
This medicine is Treating myelodysplastic syndromes (MDS) (eg, certain types of anemia or leukemia). Decitabine is a nucleoside analog. It works by blocking cell growth.
Mechanism of action:
Decitabine is a hypomethylating agent. It hypomethylates DNA by inhibiting DNA methyltransferase.
It functions in a similar manner to azacitidine, although decitabine can only be incorporated into DNA strands while azacitidine can be incorporated into both DNA and RNA chains.
Dosage and Administration:
As an infusion into the vein (intravenous or IV).
The actual dosage of Decitabine that you will receive depends on many factors, including your height and weight, your general health or other health problems, and the type of cancer or condition you have. Your doctor will determine your exact dosage and schedule.
Side effects:
All medicines may cause side effects, but many people have no, or minor side effects. Check with your doctor if any of these most COMMON side effects persist or become bothersome:
Constipation; cough; diarrhea; dizziness; hair loss; headache; joint or muscle pain; loss of appetite; nausea; stomach pain or upset; trouble sleeping; vomiting.
Precaution:
Before starting Decitabine treatment, make sure you tell your doctor about any other medications you are taking (including prescription, over-the-counter, vitamins, herbal remedies, etc.).
Do not receive any kind of immunization or vaccination without your doctors approval while taking Decitabine.
Store: Decitabine is usually handled and stored by a health care provider. If you are using decitabine at home, store decitabine as directed by your pharmacist or health care provider. Keep decitabine out of the reach of children and away from pets.
Trade Information
As Per Order Requirement Per Day

1-12 Days