Cyramza Ramicirumab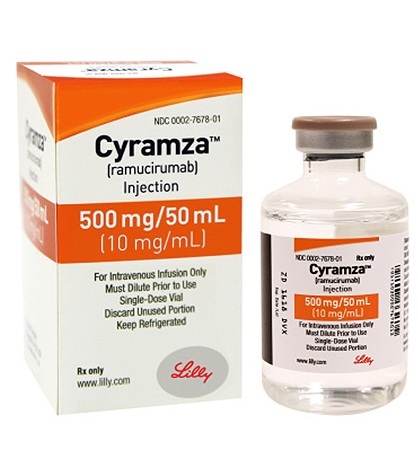 Cyramza Ramicirumab
Product Description
Cyramza (Ramicirumab)
Brand name: Cyramza
Active Ingeridents (Generic Name) : Ramicirumab
Company Name: Lilly
Package: Vial
Strength : 500mg / 50ml
Indication:
It is used in the Treatment of advanced gastric cancer or gastro-esophageal junction adenocarcinoma. Non-small cell Lung cancer. Metastatic Colorectal cancer.
Mechanism of action:
Cyramza (Ramicirumab) is a human monoclonal antibody (IgG1) against vascular endothelial growth factor receptor 2 (VEGFR2), a type II trans-membrane tyrosine kinase receptor expressed on endothelial cells. By binding to VEGFR2, Cyramza (Ramicirumab) prevents binding of its ligands (VEGF-A, VEGF-C, and VEGF-D), thereby preventing VEGF-stimulated receptor phosphorylation and downstream ligand-induced proliferation, permeability, and migration of human endothelial cells.
Dosage & Administration:
As an infusion into a vein (intravenous, IV) every 2 weeks.
Medications may be given just before the infusion to reduce the occurrence of infusion-related symptoms.
There is no pill form of Cyramza (Ramicirumab).
The amount of this medication you will receive depends on many other factors, including your weight and your general health or other health problems. Your doctor will determine your dosage and schedule.
Side effects:
Diarrhea, headache, nausea, vomiting, mouth sores, or weakness may occur. Injection reactions such as shaking, back pain/spasms, chest tightness, chills, flushing, rapid heartbeat, dizziness, or skin tingling/burning may also occur. If any of these effects persist or worsen, tell your doctor or pharmacist promptly.
Precaution:
Before receiving Cyramza (Ramicirumab), tell your doctor or pharmacist if you are allergic to it; or if you have any other allergies. This product may contain inactive ingredients, which can cause allergic reactions or other problems. Talk to your pharmacist for more details.
Store: Cyramza (Ramicirumab) is handled and stored by a health care provider. You will not store it at home. Keep all medicines out of the reach of children and away from pets.
Specification
| | |
| --- | --- |
| Minimum Order Quantity | 1 Vial |
| Packaging Size | 500mg/50ml |
| Brand | Cyramza |
| Composition | Ramucirumab |
| Manufacturer | Eli lilly |
| Treatment | non-small cell lung cancer, stomach cancer and cancer of colon and rectum |
| Form | Injection |
| Shelf life | LONG |
Contact Us
Portion A, First Floor, Old No. 131, New No. 50, Pedariyar Koil Street, Seven Wells Chennai Tamil Nadu India +918045478353
Phone :+918045478353