Consuim Carmustine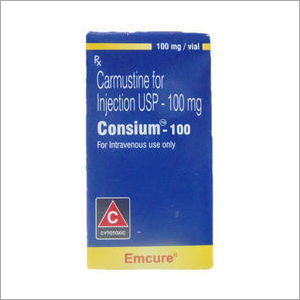 Consuim Carmustine
Product Description
Consuim (Carmustine)

Brand name: Consuim
Active Ingeridents(Generic Name) : Carmustine

Company Name: Emcure
Package: Vial
Strength : 100mg
Indication:
It is Used to treat certain types of brain tumors; glioblastoma, brainstem glioma, medulloblastoma, astrocytoma, ependymoma and metastatic brain tumors. Other cancers treated with Consuim (Carmustine) include multiple myeloma, Hodgkin's disease, non-Hodgkin's lymphomas, and may be used on the skin (topically) for cutaneous T-cell lymphoma.
Mechanism of action:
Consuim (Carmustine) causes cross-links in DNA and RNA, leading to the inhibition of DNA synthesis, RNA production and RNA translation (protein synthesis). Consuim (Carmustine) also binds to and modifies (carbamoylates) glutathione reductase. This leads to cell death.
Dosage and Administration:
Consuim (Carmustine) is usually given by an infusion into a vein (intravenous, IV).
The amount of Consuim (Carmustine) that you will recieve depends on many factors, including your height and weight, your general health or other health problems, and the type of cancer or condition being treated. Your doctor will determine your dose and schedule.
Side effects:
The following side effects are common (occurring in greater than 30%) for patients taking Consuim (Carmustine):
Nausea and vomiting,

usually within 2-4 hours of infusion, lasting for about 4-6 hours. Anti-nausea medication is given prior to infusion to prevent or decrease this side effect.
Facial flushing.
The following side effects are less common (occurring in 10-29%) for patients receiving Consuim (Carmustine):
Increases in blood tests measuring liver function, these return to normal once treatment is stopped. Low red blood cell count (anemia).Low blood pressure (hypotension) with high dose therapy. Dizziness,

loss of coordination.
Precaution:
Before starting Consuim (Carmustine) treatment, make sure you tell you doctor about any other medications you are taking (including prescription, over-the-counter, vitamins, herbal remedies, etc.).

Do not receive any kind of immunization or vaccination without your doctor's approval while taking Consuim (Carmustine).
Store:
Store the medicine in a closed container at room temperature, away from heat, moisture, and direct light. Keep from freezing .Keep out of the reach of children. Do not keep outdated medicine or medicine no longer needed.
Specification
| | |
| --- | --- |
| Minimum Order Quantity | 1 Piece |
| Usage | Personal, Hospital, Clinical, Commercial |
| Dose | 100mg |
| Packaging Type | Vial |
Contact Us
Portion A, First Floor, Old No. 131, New No. 50, Pedariyar Koil Street, Seven Wells Chennai Tamil Nadu India +918045478353
Phone :+918045478353