Clokeran Chlorambucil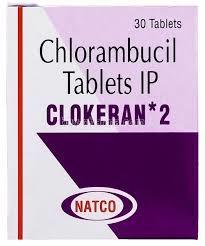 Clokeran Chlorambucil
Product Description
Clokeran (Chlorambucil)
Brand name: Clokeran
Active Ingeridents(Generic Name) : Chlorambucil
Company Name : Natco Pharmaceuticals
Package: 30 Tablets
Strength :2mg
Indication:
Clokeran (Chlorambucil ) is prescribed to patients with cancer to help inhibit the cancer cells from growing and spreading to other parts of the body. It can help with a variety of types of cancer types including lymphoma and leukemia, and hodgkin`s disease.
Mechanism of action:
Clokeran (Chlorambucil ) is a medication used to treat several kinds of cancer and other conditions including Hodgkin's disease (a type of lymphoma), malignant lymphoma (including lymphosarcoma), clasmocytoma, chronic lymphocytic leukemia, giant follicular lymphoma, hairy cell leukemia (a sub-type of chronic lymphoid leukemia), myeloma, ovarian cancer, breast cancer, Waldenstrm macroglobulinemia (lymphoplasmacytic lymphoma), Letterer-Siwe disease (genetically stipulated proliferation of histiocytes), chorionepithelioma of the uterus, glomerular nephritis, Beh?et disease (a form of vasculitis), dermatomyositis, rheumatoid arthritis, sarcoidosis, uveitis, nephrotic syndrome. Leukeran's active substance is Clokeran (Chlorambucil ), a bifunctional alkylating agent.
Dosage and Administration:
Strictly follow the instructions of your physician with regards to dosage and administration. The correct dosage will vary widely depending on the patient, the condition being treated and the severity of the condition. Clokeran (Chlorambucil) is usually taken for a period of 3 to 6 weeks. Your physician may choose to adjust your dosage based on your progress which should be checked by blood test. This medication may lower the number of blood cells, reducing the bodys ability to fight infections, heal from skin wounds, and fight viral illnesses such as common colds.
Side Effects:
Side effects of Clokeran (Chlorambucil ) may include nausea, vomiting, diarrhea, shakes or tremors, numb sensations, pain sensations, tingling sensations, or burning sensations.
Always notify your physician of any side effects you experience. If any persist, worsen, or become bothersome notify your physician as soon as possible.
Seek immediate medical attention if you experience any of the following more serious side effects.
Lightheadedness ,Flu symptom, Coughing, Chest pains, Mouth or throat sores, Pale skin or jaundice, Changes in heart beat, Loss of concentration, Changes in menstruation, Shortness of breath, Difficulty swallowing, Swelling of the face or limbs, Abnormal bruising or bleeding, Abnormal lump-like masses, Skin rashes or hives, Abnormal tiredness or weakness, Unusual weight loss
Precaution:
If you have an allergic or hypersensitive reaction, seek emergency medical attention.
Possible symptoms include difficulty breathing, difficulty swallowing, swelling, chest tightness, skin rashes, and hives.
This medication should only be used as instructed and prescribed by your physician or pharmacist. Do not alter your dosage unless specifically instructed to do so by either of the above.
Dosage and usage often depends on the severity of the condition, as well as the patients medical history and current health condition.
Store: Store at room temperature between 59-77 F (15-25 C) away from light and moisture, kids and pets. Do not use after expiration term.
Product Details:
| | |
| --- | --- |
| Packaging Size | 30 tabs in a bottle |
| Packaging Type | Bottle |
| Dose/Strength | 2mg |
| Brand | Clokeran |
Trade Information
As Per Order Requirement Per Day

1-12 Days
Contact Us
Portion A, First Floor, Old No. 131, New No. 50, Pedariyar Koil Street, Seven Wells Chennai Tamil Nadu India +918045478353
Phone :+918045478353