Cerubidine Daunorubicin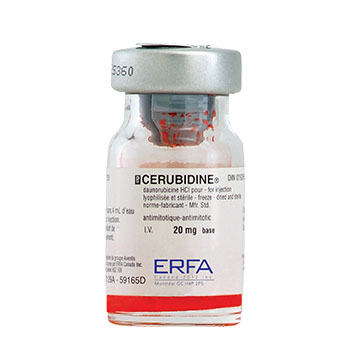 Cerubidine Daunorubicin
Product Description
Cerubidine (Daunorubicin)
Brand name: Cerubudine
Active Ingeridents (Generic Name) : Daunorubicin
Company Name: Erfa
Package: Vial
Strength : 20mg
Indication:
It is used in the treatment of Acute Myelogenous Leukemia (AML) and Acute Lymphoblastic Leukemia (ALL). It may be used in combination with other medicines. It may also be used for other conditions as determined by your doctor.
Mechanism of action:
Cerubidine (Daunorubicin) has antimitotic and cytotoxic activity through a number of proposed mechanisms of action: Cerubidine (Daunorubicin) forms complexes with DNA by intercalation between base pairs, and it inhibits topoisomerase II activity by stabilizing the DNA-topoisomerase II complex, preventing the religation portion of the ligation-religation reaction that topoisomerase II catalyzes.
Dosage & Administration:
Cerubidine (Daunorubicin) is given by intravenous injection (IV). The syringe needle is placed directly into the tubing of a freely flowing IV solution into a vein or central line and the drug is given over several minutes.

Cerubidine (Daunorubicin) is a vesicant. A vesicant is a chemical that causes extensive tissue damage and blistering if it escapes from the vein. The nurse or doctor who gives this drug must be carefully trained. If you notice redness or swelling at the IV site while you are receiving Cerubidine (Daunorubicin) , alert your health care professional immediately.

The amount of Cerubidine (Daunorubicin) you will receive depends on many factors, including your height and weight, your general health or other health problems, and the type of cancer you have. Your doctor will determine your dose and schedule.
Side effects:
All medicines may cause side effects, but many people have no, or minor, side effects. Check with your doctor if any of these most COMMON side effects persist or become bothersome:
Diarrhea; hair loss; loss of appetite; mouth pain; nausea; sore throat; stomach pain; tiredness; weakness.
Precaution:
Before starting Cerubidine (Daunorubicin) treatment, make sure you tell your doctor about any other medications you are taking (including prescription, over-the-counter, vitamins, herbal remedies, etc.).

Do not receive any kind of immunization or vaccination without your doctor's approval while taking Cerubidine (Daunorubicin) .

You may be more sensitive to sunlight, take extra care to avoid sun exposure.

People with congestive heart failure, those who have already had high doses of this drug or a similar drug, and those with permanent problems with blood counts (bone marrow suppression) cannot receive this drug.
Store: Cerubidine (Daunorubicin) is usually handled and stored by a health care provider. If you are using Cerubidine (Daunorubicin) at home, store Cerubidine (Daunorubicin) as directed by your pharmacist or health care provider. Keep Cerubidine (Daunorubicin) out of the reach of children and away from pets.
Trade Information
As Per Order Requirement Per Day

1-12 Days
Contact Us
Portion A, First Floor, Old No. 131, New No. 50, Pedariyar Koil Street, Seven Wells Chennai Tamil Nadu India +918045478353
Phone :+918045478353