Careprost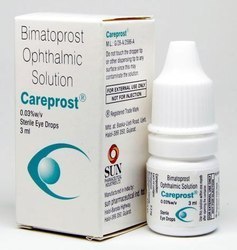 Careprost
Product Description
Indication:
It is treating increased pressure in the eye (ocular hypertension) and open-angle glaucoma.
Bimatoprost drops are a prostaglandin analog. It works to lower pressure in the eye by increasing fluid drainage from the eye.
Dosage & Administration:
Use bimatoprost drops as directed by your doctor. Check the label on the medicine for exact dosing instructions.
Use bimatoprost drops in the evening unless your doctor tells you otherwise.

Soft contact lenses may absorb a chemical in bimatoprost drops. Remove contact lenses before you use bimatoprost drops; lenses may be placed back in the eyes 15 minutes after use of bimatoprost drops.

Wash your hands before and after using bimatoprost drops.

Tilt your head back. Using your index finger, pull the lower eyelid away from the eye to form a pouch. Drop the medicine into the pouch and gently close your eyes. Immediately use your finger to apply pressure to the inside corner of the eyelid for 1 to 2 minutes. Do not blink. Remove excess medicine around your eye with a clean, dry tissue, being careful not to touch your eye. Wash your hands to remove any medicine that may be on them.

To prevent waste of bimatoprost drops, do not squeeze the bottle. Turn the bottle upright immediately after a drop is released.

To prevent germs from contaminating your medicine, do not touch the applicator tip to any surface, including the eye. Keep the container tightly closed.

Use bimatoprost drops at least 5 minutes apart from any other medicine that you put in your eye.

Continue to use bimatoprost drops even if you feel well. Do not miss any doses.

If you miss a dose of bimatoprost drops, use it as soon as possible. If it is almost time for your next dose, skip the missed dose and go back to your regular dosing schedule. Do not use 2 doses at once.
Ask your health care provider any questions you may have about how to use bimatoprost drops.
Trade Information
As Per Order requirement Per Day

1-12 Days
Contact Us
Portion A, First Floor, Old No. 131, New No. 50, Pedariyar Koil Street, Seven Wells Chennai Tamil Nadu India +918045478353
Phone :+918045478353