Caprelsa Vandetanib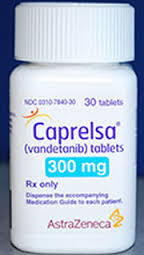 Caprelsa Vandetanib
Product Description
Caprelsa (Vandetanib)
Brand name: Caprelsa
Active Ingeridents(Generic Name) : Vandetanib
Company Name: Astrazeneca
Package: 30 Tablets
Strength: 300mg
Indication:
This medication is used to treat thyroid cancer (medullary type) that cannot be removed by surgery or that has spread to other parts of the body. It works by slowing or stopping the growth of cancer cells. Caprelsa (Vandetanib) belongs to a class of drugs known as tyrosine kinase inhibitors.
Mechanism of action:
ZD-6474 is a potent and selective inhibitor of VEGFR (vascular endothelial growth factor receptor), EGFR (epidermal growth factor receptor) and RET (REarranged during Transfection) tyrosine kinases. VEGFR- and EGFR-dependent signalling are both clinically validated pathways in cancer, including non-small-cell lung cancer (NSCLC). RET activity is important in some types of thyroid cancer, and early data with Caprelsa (Vandetanib) in medullary thyroid cancer has led to orphan-drug designation by the regulatory authorities in the USA and EU.
Dosage and Administration:
Caprelsa (Vandetanib) is a pill, taken by mouth. It can be taken with or without food.
Take Caprelsa (Vandetanib) exactly as prescribed.
Swallow Caprelsa (Vandetanib) capsules whole. Do not crush, dissolve or open capsules. If tablets are accidentally crushed, contact with skin should be avoided. If contact occurs, wash affected areas with water.
You may put tablet in cup of water, mix for 10 minutes and drink. Rinse cup with cup more water and drink.
Do not change your dose or stop Caprelsa (Vandetanib) unless your health care provider tells you to.
If you miss a dose, take it as soon as you remember. If it is too close to your next dose (within 12 hours), just take your next dose at your regular time.
Do not take more than 1 dose of Caprelsa (Vandetanib) at one time. Call your health care provider right away if you take too much.
The amount of Caprelsa (Vandetanib) that you will receive depends on many factors, your general health or other health problems, and the type of cancer or condition being treated.
Side effects:
Nausea, decreased appetite, changes in taste, dry mouth, stomach pain, vomiting, diarrhea, headache, or blurred vision may occur. Nail problems (such as nail bed swelling/tenderness/infection) may also occur. If any of these effects persist or worsen, tell your doctor or pharmacist promptly. If you have persistent/severe diarrhea or vomiting, your doctor may need to check your blood mineral levels and adjust your Caprelsa (Vandetanib) treatment.
Temporary hair loss may occur. Normal hair growth should return after treatment has ended.
Precaution:
Before taking Caprelsa (Vandetanib), tell your doctor or pharmacist if you are allergic to it; or if you have any other allergies. This product may contain inactive ingredients, which can cause allergic reactions or other problems. Talk to your pharmacist for more details.
Store:
Store Caprelsa (Vandetanib) at temperatures between 59 and 86 degrees F (15 and 30 degrees C). Store away from heat, moisture, and light.Keep Caprelsa (Vandetanib) out of the reach of children and away from pets.
Trade Information
As Per Order Requirement Per Day

1-12 Days
Contact Us
Portion A, First Floor, Old No. 131, New No. 50, Pedariyar Koil Street, Seven Wells Chennai Tamil Nadu India +918045478353
Phone :+918045478353