Capegard Capecitabine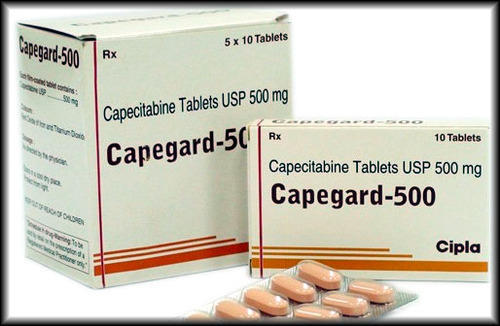 Capegard Capecitabine
Product Description
Capegard (Capecitabine)
Brand name: Capegard
Active Ingeridents(Generic Name) : Capecitabine
Company Name: Cipla
Package: 10 Tabs in strip
Strength : 500mg
Indication: It is used alone or with other treatments/medications to treat certain types of cancer (e.g., of the breast, colon, rectum). It works by slowing or stoppingcancer cell growth and by decreasing tumor size.
Mechanism of action:
Capegard (Capecitabine) Is A Prodrug That Is Converted To Fluorouracil Following Oral Administration, Which In Turn Inhibits Thymidylate Synthetase, Blocking The Methylation Of Deoxyuridylic Acid To Thymidylic Acid, Interfering With DNA, And To A Lesser Degree, RNA Synthesis.
Dosage and Administration:
Taken as a pill by mouth.
Take after food (within 30 minutes of a meal) with water. (Usually taken in a divided dose 12 hours apart).
Tablets come in 2 sizes; 150mg and 500mg.
Do not crush, chew or dissolve tablets.
The amount of Capegard (Capecitabine) that you will receive depends on many factors, including your height and weight, your general health or other health problems, and the type of cancer or condition being treated. Your doctor will determine your dose and schedule.
Side effects:
Diarrhoea, Nausea And Vomiting, Stomatitis, Palmar-Plantar Syndrome, Dermatitis. Fatigue, Mucosal Inflammation, Pyrexia, Asthenia And Lethargy; Headache, Dizziness And Insomnia; Lower Limb Oedema, Anorexia, Dehydration. Potentially Fatal: Cardiotoxicity, Bone-Marrow Depression And Hyperbilirubinaemia.
Precaution:
Before starting Capegard (Capecitabine) treatment, make sure you tell your doctor about any other medications you are taking (including prescription, over-the-counter, vitamins, herbal remedies, etc.).
Avoid use of antacids within 2 hours of taking Capegard (Capecitabine).
If you are on warfarin (Coumadin) as a blood-thinner, adjustments may need to be made to your dose based on blood work.
Capegard (Capecitabine) may be inadvisable if you have had a hypersensitivity (allergic) reaction to fluorouracil.
Do not receive any kind of immunization or vaccination without your doctor's approval while taking Capegard (Capecitabine).
Inform your health care professional if you are pregnant or may be pregnant prior to starting this treatment. Pregnancy category D (Capegard (Capecitabine) may be hazardous to the fetus. Women who are pregnant or become pregnant must be advised of the potential hazard to the fetus).
Store: Capegard (Capecitabine) room temperature away from moisture and heat
Specification
| | |
| --- | --- |
| Minimum Order Quantity | 10 Strip |
| Packaging Size | 10tablets |
| Dose/Strength (ex. 1 mg or 1 ml) | 500mg |
| Usage | Hospital, Clinical, Personal |
Contact Us
Portion A, First Floor, Old No. 131, New No. 50, Pedariyar Koil Street, Seven Wells Chennai Tamil Nadu India +918045478353
Phone :+918045478353