Canmab Trastuzumab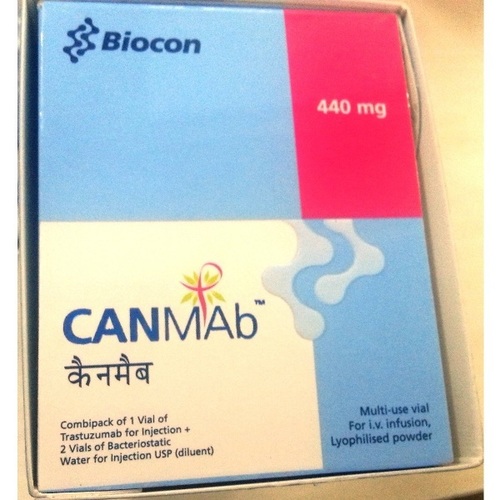 Canmab Trastuzumab
Product Description
Canmab (Trastuzumab)
Brand name: Canmab
Active Ingeridents (Generic Name) : Trastuzumab
Company Name:biocon
Package: Vial
Strength : 440mg
Indication:
Canmab (Trastuzumab) is used alone or with other medications to treat certain types of breast cancer. It is also used along with other medications to treat certain types of stomach cancer. The types of cancers Canmab (Trastuzumab) is used to treat are tumors that produce more than the normal amount of a certain substance called HER2 protein.
This medication is called a monoclonal antibody. It works by attaching to the HER2 cancer cells and blocking them from dividing and growing. It may also destroy the cancer cells or signal the body (immune system) to destroy the cancer cells.
Mechanism of action:
Canmab (Trastuzumab) binds to the HER2 (or c-erbB2) proto-oncogene, an EGF receptor-like protein found on 20-30% of breast cancer cells. The binding leads to antibody mediated (complement mediated) killing of the HER2 positive cells.
Dosage & Administration:
Canmab (Trastuzumab) is given through an infusion into vein (intravenous, IV). The first dose is given over 90 minutes. If well-tolerated subsequent maintenance doses may be given over 30 minutes.
The amount of Canmab (Trastuzumab) that you will receive depends on many factors, including your height and weight, your general health or other health problems, and the type of cancer or condition being treated. Your doctor will determine your dose and schedule.
Side effects:
Diarrhea, redness/irritation at injection (IV) site, muscle/joint/back pain, stomach/abdominal pain, trouble sleeping, nausea, vomiting, mouth sores, and loss of appetite may occur. Nausea and vomiting can be severe. In some cases, your doctor may prescribe medication to prevent or relieve nausea and vomiting. Eating several small meals, not eating before treatment, or limiting activity may help lessen some of these effects. If these effects persist or worsen, tell your doctor or pharmacist promptly.
Precaution:
Before using Canmab (Trastuzumab), tell your doctor or pharmacist if you are allergic to it; or to other mouse protein medications; or if you have any other allergies. This product may contain inactive ingredients (such as benzyl alcohol), which can cause allergic reactions or other problems. Talk to your pharmacist for more details.
Store: Canmab (Trastuzumab) is handled and stored by a health care provider. Keep Trastuzumab out of the reach of children and away from pets.
Contact Us
Portion A, First Floor, Old No. 131, New No. 50, Pedariyar Koil Street, Seven Wells Chennai Tamil Nadu India +918045478353
Phone :+918045478353