Bortenat Bortezomib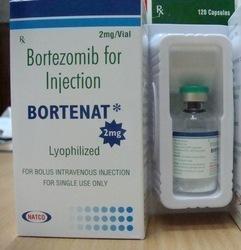 Bortenat Bortezomib
Product Description
Brand name: Bortenat
Active Ingeridents(Generic Name) : Bortezomib
Company Name: Natco Pharma
Package: 1 vial
Strength : 2mg
Indication:
Bortenat (Bortezomib) is used to treat multiple myeloma and mantle cell lymphoma.
Bortenat (Bortezomib) is sometimes given after other cancer medications have been tried without successful treatment.
Mechanism of action:
Bortenat (Bortezomib) is a reversible inhibitor of the chymotrypsin-like activity of the 26S proteasome in mammalian cells. The 26S proteasome is a large protein complex that degrades ubiquitinated proteins. The active site of the proteasome has chymotrypsin-like, trypsin-like, and postglutamyl peptide hydrolysis activity. The 26S proteasome degrades various proteins critical to cancer cell survival, such as cyclins, tumor suppressors, BCL-2, and cyclin-dependent kinase inhibitors. Inhibition of these degradations sensitizes cells to apoptosis. Bortenat (Bortezomib) is a potent inhibitor of 26S proteasome, which sensitizes activity in dividing multiple myeloma and leukemic cells, thus inducing apoptosis.
Dosage and Administration:
Use Bortenat (Bortezomib) as directed by your doctor. Check the label on the medicine for exact dosing instructions.
Drinking extra fluids while you are taking Bortenat (Bortezomib) is recommended. Check with your doctor for instructions.
Bortenat (Bortezomib) is given as an injection into a vein or under the skin at your doctor's office, hospital, or clinic. Bortenat (Bortezomib) is not intended to be injected into the spinal cord. Contact your health care provider if you have any questions.
It is very important that each dose is given at the scheduled time. If you miss a dose of Bortenat (Bortezomib), contact your doctor right away to establish a new dosing schedule. Do not use 2 doses at once.
Ask your health care provider any questions you may have about how to use Bortenat (Bortezomib).
Side effects: Check with your doctor if any of these most COMMON side effects persist or become bothersome:
Constipation; diarrhea; dizziness; headache; loss of appetite; mild stomach pain; nausea; stomach upset; taste changes; tiredness; trouble sleeping; vomiting; weakness.
Precaution:
Before starting Bortenat (Bortezomib) treatment, make sure you tell your doctor about any other medications you are taking (including prescription, over-the-counter, vitamins, herbal remedies, etc.).
Do not receive any kind of immunization or vaccination without your doctor's approval while taking Bortenat (Bortezomib).
Store: Store the medicine in a closed container at room temperature, away from heat, moisture, and direct light. Keep from freezing .Keep out of the reach of children. Do not keep outdated medicine or medicine no longer needed.
Product Details:
| | |
| --- | --- |
| Dose | 3.5mg |
| Packaging Type | Vial |
| Brand | Natco |
| Usage | Personal |
| Dose/Strength | 3.5 |
Trade Information
As Per Order Requirement Per Day

1-12 Days
Contact Us
Portion A, First Floor, Old No. 131, New No. 50, Pedariyar Koil Street, Seven Wells Chennai Tamil Nadu India +918045478353
Phone :+918045478353