Azacitidine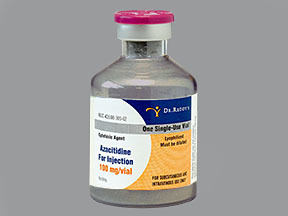 Azacitidine
Product Description
Azacitidine
Active Ingredient: Azacitidine

Company name: Dr.Reddys

Package:vial

Strength:100mg
Indication:
Treating certain blood problems, including chronic myelomonocytic leukemia. It may also be used for other conditions as determined by your doctor.
Azacitidine is an antineoplastic. It works by causing the death of abnormal, rapidly dividing cells in the bone marrow.
Mechanism of action:
Azacitidine (5-azacytidine) is a chemical analogue of the cytosine nucleoside used in DNA and RNA. Azacitidine is thought to induce antineoplastic activity via two mechanisms; inhibition of DNA methyltransferase at low doses, causing hypomethylation of DNA, and direct cytotoxicity in abnormal hematopoietic cells in the bone marrow through its incorporation into DNA and RNA at high doses, resulting in cell death. As Azacitidine is a ribonucleoside, it incoporates into RNA to a larger extent than into DNA. The incorporation into RNA leads to the dissembly of polyribosomes, defective methylation and acceptor function of transfer RNA, and inhibition of the production of protein. Its incorporation into DNA leads to a covalent binding with DNA methyltransferases, which prevents DNA synthesis and subsequent cytotoxicity.
Dosage & Administration:
Use Azacitidine as directed by your doctor. Check the label on the medicine for exact dosing instructions.
Azacitidine is usually given as an injection at your doctor's office, hospital, or clinic. If you will be using Azacitidine at home, a health care provider will teach you how to use it. Be sure you understand how to use Azacitidine. Follow the procedures you are taught when you use a dose. Contact your health care provider if you have any questions.

Do not use Azacitidine if it contains particles, is discolored, or if the vial is cracked or damaged.

You may receive certain other medicines before Azacitidine to help decrease the risk of nausea and vomiting. Discuss any questions with your doctor.
Ask your health care provider any questions you may have about how to use Azacitidine.
Side Effects:
All medicines may cause side effects, but many people have no, or minor, side effects. Check with your doctor if any of these most COMMON side effects persist or become bothersome:
Anxiety; constipation; cough; diarrhea; dizziness; dry skin; headache; indigestion; joint pain; loss of appetite; mild muscle pain; nausea; pain, swelling, or redness at the injection site; stomach tenderness; tiredness or weakness; trouble sleeping; vomiting.
Precaution:
Before starting Azacitidine treatment, make sure you tell your doctor about any other medications you are taking (including prescription, over-the-counter, vitamins, herbal remedies, etc.).

Do not receive any kind of immunization or vaccination without your doctor's approval while taking Azacitidine.
Store:
Azacitidine is usually handled and stored by a health care provider. If you are using Azacitidine at home, store Azacitidine as directed by your pharmacist or health care provider. Keep Azacitidine out of the reach of children and away from pets.
Trade Information
As Per Order Requirement Per Day

1-12 Days