Arranon Nelarabine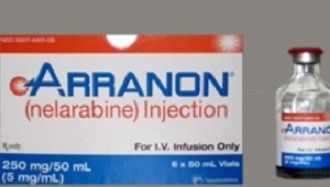 Arranon Nelarabine
Product Description
Arranon (Nelarabine)
Brand name: Arranon

Active Ingeridents (Generic Name) : Nelarabine Inj

Company Name:Glaxosmithkline

Package: Vial

Strength : 250mg/50ml
Indication:
This medication is used to treat certain cancers (leukemia, lymphoma). Arranon (Nelarabine) is a chemotherapy drug that works by slowing or stopping the growth of cancer cells.
Arranon (Nelarabine) is used to treat T-cell acute lymphoblastic leukemia (T-ALL) and T-cell lymphoblastic lymphoma (T-LBL) whose disease has not responded to or has relapsed following treatment with at least two chemotherapy regimens.
Mechanism of action:
Once Arranon (Nelarabine) is metabolized into ara-GTP, the metabolite accumulates in leukemic blasts and incorporates into DNA to exert its S phase-specific cytotoxic effects, leading to the induction of fragmentation and apoptosis. Ara-GTP competes with endogenous deoxyGTP (dGTP) for incorporation into DNA. Once ara-GTP is incorporated at the 3' end of DNA, further DNA elongation is inhibited, which signals apoptosis and leads to cellular destruction.
Dosage & Administration:
By intravenous (IV) infusion.
The amount of Arranon (Nelarabine)that you will receive depends on many factors, including your height and weight, your general health or other health problems, and the type of cancer or condition being treated. Your doctor will determine your dose and schedule.
Side effects:
Headache, nausea, vomiting, loss of appetite, constipation, diarrhea, cough, shortness of breath, dizziness, drowsiness, and tiredness may occur. In some cases, your doctor may prescribe medication to prevent or relieve nausea and vomiting. Eating several small meals, not eating before treatment, or limiting activity may help lessen some of these effects. If any of these effects persist or worsen, tell your doctor or pharmacist promptly.
Precaution:
Before using Arranon (Nelarabine), tell your doctor or pharmacist if you are allergic to it; or if you have any other allergies. This product may contain inactive ingredients, which can cause allergic reactions or other problems. Talk to your pharmacist for more details.
Before using this medication, tell your doctor or pharmacist your medical history, especially of: blood/bleeding disorders (e.g., anemia, low blood cell counts), kidney problems, liver disease, numbness/tingling in hands/feet (peripheral neuropathy), seizure.
Store: Arranon (Nelarabine) is handled and stored by a health care provider. Keep Arranon (Nelarabine) out of the reach of children and away from pets.
Trade Information
As Per Order Requirement Per Day

1-12 Days
Contact Us
Portion A, First Floor, Old No. 131, New No. 50, Pedariyar Koil Street, Seven Wells Chennai Tamil Nadu India +918045478353
Phone :+918045478353