Armotraz Anastrozole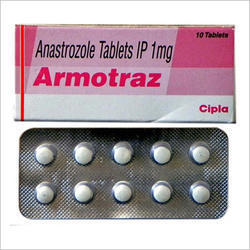 Armotraz Anastrozole
Product Description
Armotraz (Anastrozole)
Brand name: Armotraz
Active Ingeridents(Generic Name): Anastrozole
Company Name: Cipla
Package: 10 Tabs in strip
Strength : 1mg
Indication:
It is used to treat breast cancer in women who have gone through "the change of life" (menopause). Armotraz (Anastrozole) works by lowering estrogen hormone levels to help shrink tumors and slow their growth.
Mechanism of action:
Armotraz (Anastrozole) binds reversibly to the aromatase enzyme through competitive inhibition, inhibits the conversion of androgens toestrogens in peripheral tissues (extra-gonadal).
Dosage and Administration:
Take this Tablet by mouth with or without food, usually once a day, or as directed by your doctor.
Use this tablet regularly in order to get the most benefit from it. Remember to use it at the same time each day.
Side effects:
Constipation, diarrhea, nausea, vomiting, upset stomach, loss of appetite, body aches and pains, breast swelling/tenderness/pain, headache, dry mouth, scratchy throat, increased cough, dizziness, trouble sleeping, tiredness/weakness, flushing and sweating (hot flashes/hot flushes), hair thinning, and weight change can occur. Changes in diet such as eating several small meals may help lessen the chance of nausea and vomiting. If any of these effects persist or worsen, notify your doctor or pharmacist promptly.
Precaution:
Before taking Armotraz (Anastrozole), tell your doctor or pharmacist if you are allergic to it; or if you have any other allergies. This product may contain inactive ingredients, which can cause allergic reactions or other problems. Talk to your pharmacist for more details.
Before using this medication, tell your doctor or pharmacist your medical history, especially of: liver disease, high blood pressure, heart disease (such as ischemic heart disease, history of chest pain), brittle bone disease (osteoporosis), blood clots.
Store:
Store the medicine in a closed container at room temperature, away from heat, moisture, and direct light. Keep from freezing. Keep out of the reach of children. Do not keep outdated medicine or medicine no longer needed.
Product Details:
| | |
| --- | --- |
| Dose | 1mg |
| Usage | Commercial, Hospital, Personal, Clinical |
| Packaging Size | 3x 10 Tablets |
| Packaging Type | Strip |
| Brand | CIPLA |
| Dose/Strength | 1mg |
| Color | White |
| Product Type | Tablet |